This was the day that Dad and Dixie were flying home. I was trying hard not to think about it! They had rented their own van (that we didn't use) so we were not seeing them off at the airport. Again we had a late breakfast. Then we went to the shopping outlet to do a little "retail therapy". Not much was actually purchased. I think Dix got a couple of T's for the grandkids. The girls enjoyed riding all the mechanical toys (think in front of grocery store toys). Grandads are much more willing to pay for things like that than moms are. ;-) Then we said good-bye and they headed to the airport.
We headed to Universal's Islands of Adventure. We had two goals for the day: explore Seuss Landing and conquer a big roller coaster--or at least German would conquer it.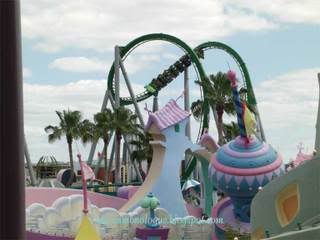 This is a picture of the Incredible Hulk taken from the train in Seuss Landing.
Since this was our latest arrival at any park, it was crowded. And it was hot! So our first stop was to buy German and myself a hat! Then we were off to Dr Seuss Land!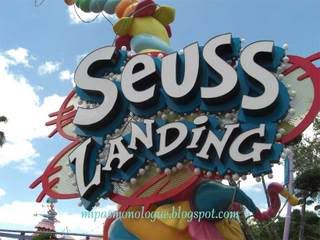 The Seussossel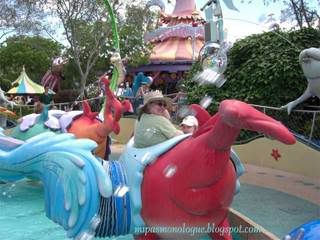 Red Fish, Blue Fish....And then you get wet!
After we rode the "Cat in the Hat" and the train, Rose's slight "accident" necessitated some more shopping. We decided that the girls and I would do the shopping and make the clothing change needed, and then meet German at Dueling Dragons--the big roller coaster he planned to conquer! At least it gave me an excuse to buy "Thing One" shorts for the girls!
As we were getting ready to leave Seuss Landing, a few friends came out and we stopped to meet them all!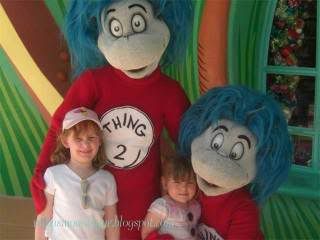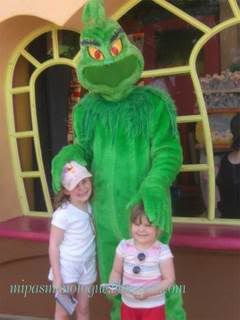 Then we went to meet German. He rode the "ice" side of the dueling dragons. By far, he thought it was the best coaster of the trip!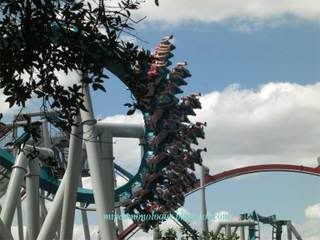 Then we wandered through the rest of the park. The girls played in the Jurassic play area. The queue to ride the flying pterodactyls was 90 minutes, so we passed. We ate ice cream in the 'Toon area and took a few pictures.
Our goal was to get to the Incredible Hulk for German to conquer another coaster. We took some pictures of it from a distance and commented that it didn't seem to be going as frequently. Just as we got to the turn styles, they announced that it had a mechanical failure and they were turning out the queue who had been waiting for over half an hour. *sigh* German took Jewel to go on the Spiderman ride instead. Neither of them were terribly impressed. While we waited, Flower showed her best "I'm bored but I'm incredibly cute" pose.
After we left the Islands we took what is my favorite family shot of the holiday!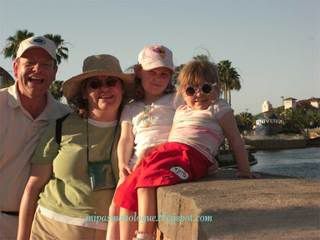 Dinner was at Vallarta Mexican restaurant. It took us until day eleven to even spot a Mexican restaurant anywhere! I was beginning to panic. lol. But it was totally worth the wait!
Home for a swim and then another good night's sleep!