Day nine arrived early, and I was exhausted. I said to German that I really didn't have it in me to do another long day. He was in the same state of mind. Our original plan had been to do Kennedy on this day and then take Sunday as just hang out by the pool and relax day. We wondered about switching the schedule. I checked the "Brits Guide to Orlando" which had an awesome table that told the types of crowds to expect at different places on each day of the week. It indicated that Sunday was a "light" crowd day at Kennedy, so decision was made. We quietly knocked on doors and told everyone "change of plans, sleep in!" No one argued!
The only problem was the housekeeping crew was scheduled to come at 10 since we would be away. So we got everyone up and ready to leave just before ten. We went and had a leisurely breakfast at Cracker Barrel. When we came back by the villa, the cleaning crew was still there. So we went to the little playground in the neighbourhood for the girls to swing and slide.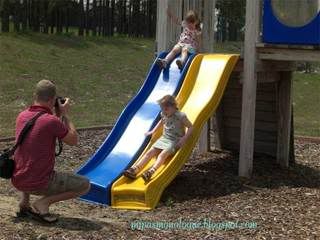 Amy-I'm-afraid-of-snakes managed to catch a lizard for the girls to see up close. They were enthralled. Enthralled, but Jewel wouldn't touch it. Flower on the other hand couldn't wait to touch!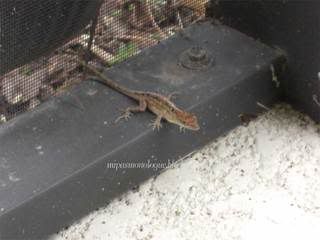 We finally got back in the villa, and most everyone got ready to swim. German and Dad were going to Wally World to try and get a disk made of some of our pictures, and to get a birthday cake for Amy. The girls had a blast showing off their swimming skills to Dix, Amy and Uncle Jim.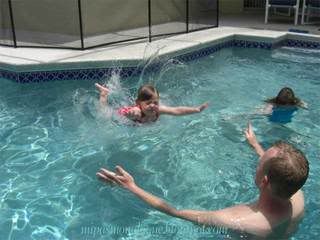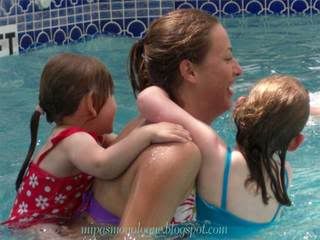 And, Amy caught another lizard.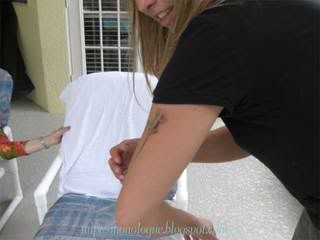 They played in the pool for hours. When German got home, he joined them for a while as well.
The villa also had a great game room with a pool table and airhockey table. Pool was a little tricky, since the game room was a converted garage, but they had not taken into consideration that the floor of a garage is slightly sloped. Dad tried to balance the table, but it still was sloped. Air hockey, on the other hand, was a blast. The girls loved it. Here, the two brothers are showing their competitive sides.
Later we went out for dinner. We returned home for dessert, birthday cake.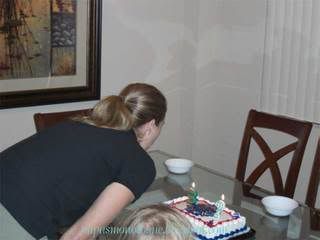 When German had asked Dix what kind of cake Amy liked, she had said "icing." So German chose a cake with lots of icing. When he was cutting the cake and asked Amy which piece she wanted she replied, "icing." We cracked up! He had done well, the cake had great flavor and awesome icing!
We then had an earlier night since the next morning
would
be early.