Finally, I am ready to post some pictures from our Florida holiday! We only took 5335 pictures, plus the 249 on the Disney Photo Pass, so I really don't have much to choose from, but I'll do my best. LOL. Seriously, the sixteen day trip was amazing, and I will break the posts down into each day so as not to be too overwhelming. Also, I am fully aware that "what I did on my vacation" posts are not everyone's cup of tea, so feel free to skip them. I won't be offended in the least. I will also post for Marriage Monday, In Other Words and Thankful Thursday next week, so there will be other choices to read.
A final caveat, I know that everyone who has been to Disney has their favorite this, that or the other that you cannot imagine anyone missing out on. We made a conscious choice that given our kids age and stamina levels we would miss things. We chose to do the things we felt, knowing their personality, they would enjoy the most. This is our ideal holiday. It might not be anyone else's, and that is totally okay. But I would appreciate you not commenting things such as "you really should have done...whatever." Maybe we should have, but we have our reasons for choosing not to and we are happy with our choices. Okay, off my soap box.
Road map: Day One=travel; Day Two=Magic Kingdom; Day Three=Animal Kingdom; Day Four=SeaWorld; Day Five=villa/swim day; Day Six=EPCOT; Day Seven=Wet'N'Wild; Day Eight=EPCOT; Day Nine=villa/swim day; Day Ten=Kennedy Space Center; Day Eleven=Mini Golf/relax day; Day Twelve=Islands of Adventure; Day Thirteen=Hollywood Studios; Day Fourteen=Typhoon Lagoon; Day Fifteen=Magic Kingdom; Day Sixteen=Travel Day.
Without further introduction, day one. It dawned early, but not as early as it might have given early flight, check in times and travel to airport (one hour). That's because we actually started the vacation the night before by staying at an airport hotel. This was actually cost saving, as the hotel and two weeks parking on their site was cheaper than two weeks parking at the airport parking! We still got up fairly early since we had two little girls who absolutely could not wait to get on the airplane. One drawback quickly discovered was that the hotel used small passenger vans for airport transport and could only take 6-8 passengers at a time depending on luggage. And, the queue was about 30 people when we got to it. Good thing we were early! Finally got to the airport. Since I had checked in online, passport checks and checking bags were simple. Then we went to have a leisurely breakfast before getting on the plane. So far so good!
We were blessed with an entire row of seats, with empty seats in the middle. Makes for a more pleasant trip. The girls quickly settled in,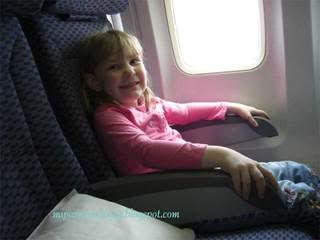 and figured out how to use the onboard games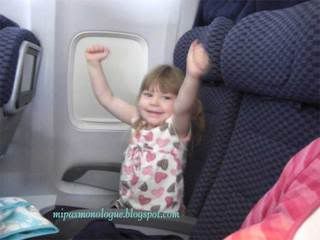 We checked the flight path.
*groan*
And off we went. The flight was smooth. The girls slept or played quietly. Really could not have asked for a better trip, except we were slightly late landing, and we had a tight connection. Now the fun begins!
We got off the plane, got in the long queue for passport control, received the "welcome home" that is so cool to hear when entering the US and went to get our luggage. Our bags came off and then we set off to find where the pushchair would have been off-loaded. Discovered it was the other end of the luggage area. Got it and headed back to where we started and through customs. (Too bad we didn't know at this point that they had BROKE the pushchair or we would have skipped that step.) Easy, peasy. Re-checked our luggage and headed to our gate. Oh, wait! Newark Airport is a nightmare. And they are so brilliant they have all their security-cleared-international-passengers LEAVE THE SECURED AREA and go back through security. With all their domestic passengers. At the same time. With only three screening bays opened. (Remember we had a tight connection) It took 42 minutes to get back through security. Giving five minutes to get to the gate (Yes, that is FIVE!). German and Jewel ran ahead, because of course my bag got grabbed for further scrutiny. Flower and I ran, I didn't even put her shoes back on her, which upset her greatly. German arrived at the gate as they were closing it. They said our bags had been taken off and they could not let us on (this was huge lie, as we discovered later). Truth was they had given away our seats. UGH!
Off to the queue to get rescheduled. No other seats on flights to Orlando. All over-sold, (as was ours apparently). Re-routed us through....COLUMBUS! Just where we were dying to visit. So, we flew to Columbus, had dinner and then flew to Orlando arriving SEVEN hours after we should have. All our plans of get in early-buy some groceries-go swim-have an early evening had gone out the window. They became get the van-find the villa in the dark-crash in bed after 11pm which made it a 23 hour day. But we have arrived!