Wednesday was the day of our Florida vacation I had most looked forward to coming. All day Tuesday I promised the girls "big surprises" on Wednesday, but they never guessed what was coming. We got up and headed to EPCOT.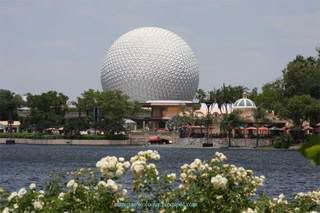 They were just excited to be "going back to Disney." We took our obligatory pictures in front of the "big golf ball" (Jewel's description of it),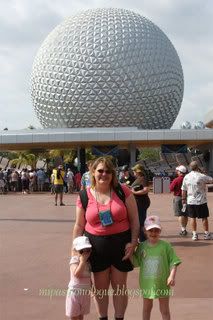 bought "passports" in the gift shop and then headed to World Showcase. We went straight to Norway. Getting there a few minutes earlier than we needed to arrive we explored in Norway and found the kiosk for the kid's activities. The girls each got a mask that a token would be added to in each country. They had their "passports" stamped.
Then we went and found a place to sit. German told them the surprise was coming, but first they had to be dressed appropriately. I had brought their "princess dresses" in the backpack. They were so excited!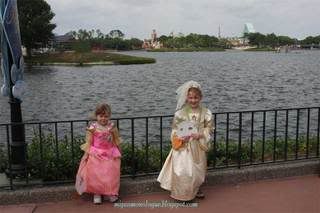 They got dressed up and then we went to Akeurhaus to check in. A few moments later they announced that "The Royal *** Family" would be entering. We were ushered through the door and the girls immediately meet Belle and had their photo taken with her.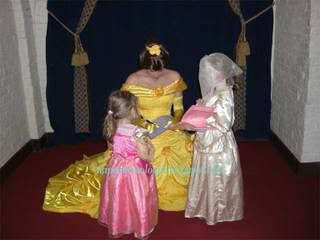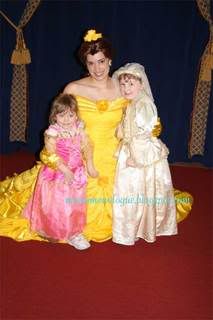 We were then shown to our table for lunch. We ordered lunch and had finished our starters (from the cold bar of salads and Norwegian specialties) and our main courses (salmon soup and lamb stew--both amazingly good!) when the Princesses arrived. Flower's eyes when Princess Aurora arrived at our table was priceless. Aurora is her favorite and is whose dress she was wearing. They met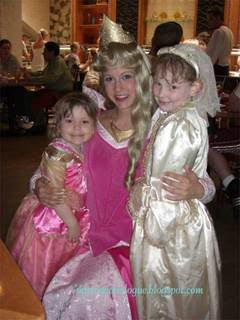 Aurora,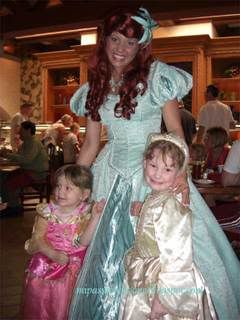 Ariel,



Jasmine

and


Cinderella.
Jewel's dimples were the deepest I've ever seen them! After meeting the Princesses, dessert was served. The cappuccino cheesecake was to die for! The photo that was taken with Belle was delivered to our table while we were eating. The joy in the girls faces was soooo worth the planning to get us to the day.
We spent the rest of the day touring the "countries" and getting mask tokens and passports stamped. We had so much fun going from country to country. It was great to see the girls recognize the countries from our own travels.
We also met Mulan while in China and got her picture and autograph.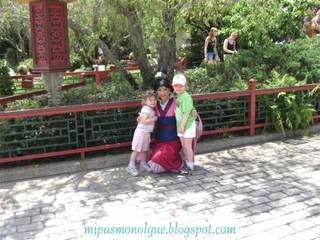 We met Belle and Beast in France.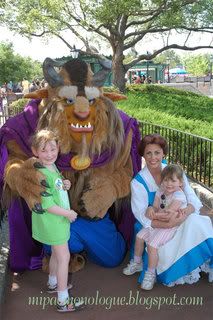 We met Genie and Jasmine in Morrocco. (I know the girls aren't in this pic, but it was such a great shot taken by German!)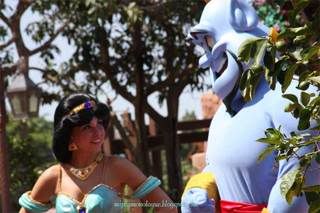 By this time the girls autograph books only had one more space and they were saving that for Snow White, so were were just going to have pictures taken. But Genie asked if he could sign their hats and I nodded my okay. So they have autographed hats by Genie and Jasmine.
We had
gelato in Italy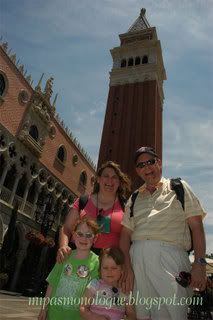 and pastries in France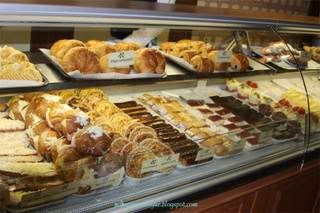 and mint tea in Morocco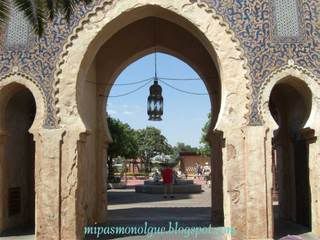 to add to the experience.
While visiting the UK, we were able to meet Tigger, Pooh and Eeyore.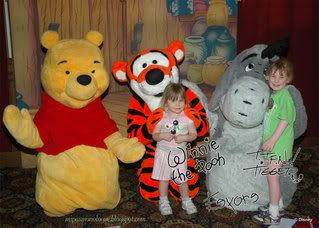 I realized we were going to have to have more autograph space, and got them two more books to get these autographs!
We also met Mary Poppins and Alice in Wonderland in the UK.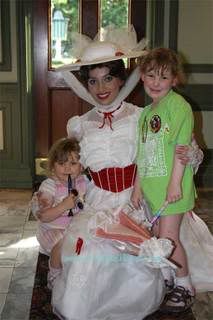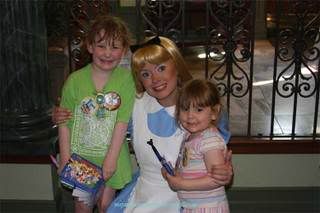 (The UK was also the place of my near heart attack. I had taken Jewel to get her passport stamped. German was right behind me. He thought I had Flower; I thought he had her. I ran out of the shop to look for her just in time to hear someone say, "where is that little girl going, I think she is lost." Flower was running as fast as she could in the opposite direction, thinking she was trying to catch us! Please reinforce with your kids what to do if they are lost. I had told her if she couldn't see us to stay put, we would come to where we last saw her, but in her panic she forgot. My heart still shudders at what "might have been".)
Back to the fun part of the day. We went on to Canada and listened to the band for a while. Men in kilts are always a welcome site, lol.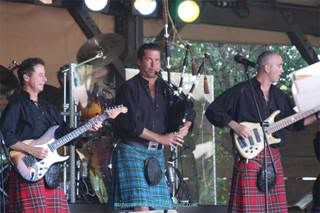 After touring all the countries, we went and watched the jumping fountains for a while. We rode the Nemo ride (cute but not essential) and then went to join the queue for Soarin'. Flower was too little, so we were doing a parent swap on the ride. This allowed Jewel to ride it twice. It is a hang-gliding simulation over California. Jewel can be quite nervous in dark or up high rides, so I figured she would refuse to do it a second time. She rode with German first, and she came off telling me how "awesome" it was and what was going to happen and what we were going to see. She talked the entire time we were on the ride. It was great. The simulation itself is good, but her enthusiasm was infectious. I think she would have ridden it again and again if we would have let her.
We took a few more pics with the topiaries.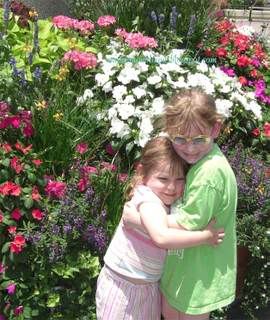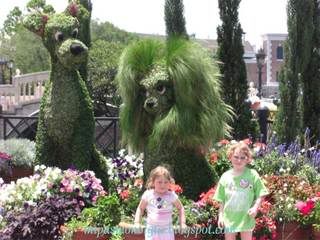 We went to eat dinner in Mexico and find a place for the Illuminations. What a cool show--fireworks and lasers.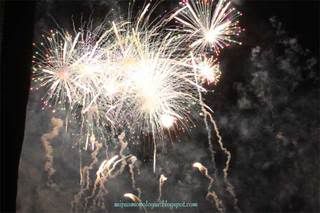 (For a really cool blog article about a trip to Disney and seeing God in the Illuminations, go
here
! He says it so much better than I can, but I definitely felt so many of these things.)
We all had a great time!
This was the first day we had closed down a park, so we had tired campers with us. Our plan had been to let them swim in the dark with the lights for a few minutes, but they were asleep before we got out of EPCOT's parking lot, so we just put them to bed when we got to the villa. A truly "magical" day!