This was our last full day in Orlando. Just as we had wanted the girls first memory of Disney to be Cinderella's castle, we wanted it to be their last impression as well.
So, off to Magic Kingdom we went!
We had our pictures taken, and Tinker Bell kindly came to the party!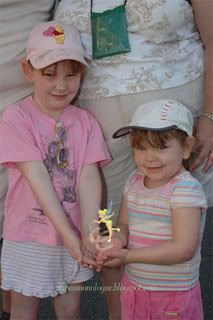 Today was about doing the things we had not done on the first trip. So our first stop was Adventureland. German and Jewel rode the mine train. Flower was terribly disappointed that she could not ride (a couple inches short). The attendant gave her a "too short pass" that allows her to go to the front of the queue when she comes back when she is tall enough. It is her favorite souvenier of the entire trip. After the mine train, we rode Aladdin's Flying Carpets--complete with spitting camels.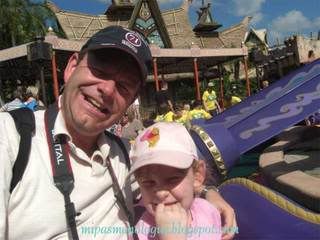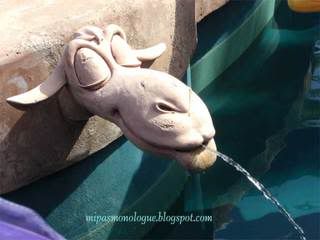 Then we went on the Jungle Cruise. My ever-so-skittish Jewel did not enjoy this at all.
Then we met Captain Hook, Mr. Smee, Wendy and Peter Pan!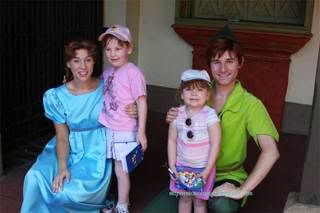 We went to the bear jamboree, which the girls thought was great fun.
Then it was off to Futureland.
While German was on Space Mountain, the girls and I rode the elevated train. Then we all went on the race cars. The girls insisted on driving! Flower could not even be seen over the wheel, so I did a lot of the steering.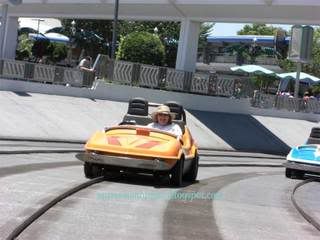 Finally, we went back into Fantasyland to ride the teacups, which we had missed the first time. The only thing I remember about my trip to Disneyland in California as a child was the teacups, so this ride was as much for me as for the girls.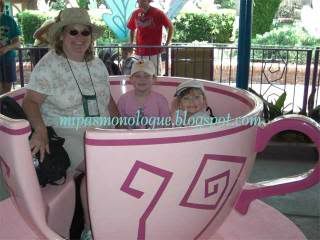 We took our final pictures and headed to the gates. Just by the gate, however, we spotted Jiminey Cricket and Pinnocchio. So, of course we had to stop.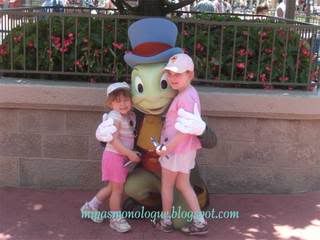 Good-bye Disney!!
We headed back to the villa for a last swim.
Then lots of packing. Then dinner out at Outback one last time. I cannot stress enough how wonderful this entire holiday has been!