My apologies for leaving you with four days of the holiday to go. I was able to go with German on a business trip at the last minute, and that threw all my best layed plans to the wayside!
AMY--you may want to skip the next paragraph!!!
Day thirteen we got up and got dressed, had a quick breakfast and headed out the door. I was leading the way. The groundskeepers were mowing the grass, so it was noisy. But not noisy enough to muffle my scream as the SNAKE slithered across my open-toed shoe as I stepped onto the sidewalk. I was not amused! It was only about 12 inches long, but it was 12 inches too many! German was not amused that I "shrieked" (his words) although I'm not sure he would have fared any better. The girls were totally unsure about walking out of the house now, so I had to really act like it was nothing! I'm sure it was trying to get out of the way of the mowers, but it was still quite a startle.
After we got everyone in the van, we headed to Typhoon Lagoon!
We had a great day lazing on the lazy river and careening down a few water slides. We weren't that impressed with the kiddie area as it was mainly just sprinklers to run through. There was a nice kid's slide beside the wave pool. We were able to go on one of the larger slides as a family.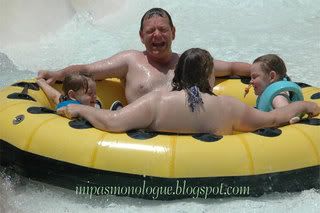 German took Jewel down a couple of others, and I took her down one. Flower just loved the lazy river so we did that a couple of times as well.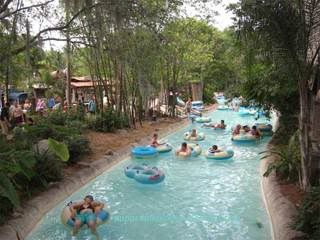 The kids highlight of the day was meeting Stitch.
After finishing our day at the Lagoon, we went to the big mall to do a little more shopping. We were looking for my favorite clothing store to shop and for a place to find New Balance shoes. Never found the shoes, but I stocked up for the year! The girls had fun shopping with their daddy in the Disney store so I could have peace while shopping. YAY!! We then headed to Target to get the rest of our shopping completed. Clothes, clothes, clothes with a few cds and media things to fill in the gaps. I love shopping in the US!!
After dinner we had a quick swim and off to bed.