Two years ago Laurel Wreath hosted a lovely time of posting our New Year Meditations. It was one of the highlights of my new year and something that I look forward to continuing. This year she is back again! Here is her invitation. I hope you will join me here the first week of 2009 as well as
joining her at her site
to get 2009 off to a great start of what we dream God will do in our lives.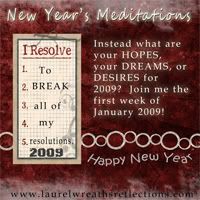 Who: Everyone is invited
What: I would like you to post on your site about your hopes, dreams, and goals for the next year. What would you like to see God do in your life? How would you like to see Him move in things? Make this as general or as personal as you feel comfortable. What are your goals for next year? I am not looking for the "lose 10 lbs this year" answer, something a little bit deeper. When you look back to December 2009 where would you like to be?
When: Come back the first week of January 2009 (January 1 through 5th).
Where: I will put up a Mr. Linky beginning January 1st through 7th 2009, so you can link back to your blog post (not just your blog). I am not really one to make "New Year Resolutions" (in fact I dislike them), if I make them I break them. But I am one to think about what my dreams and desires are at the time, and see where the Lord leads me. Sometimes it is exciting because the Lord has so much more in mind, sometimes it proves to be a difficult year because He had a lot to teach me. Either way it is exciting to follow God's leading and plan for my life. How about you?
Feel fee to grab the graphic and include it on your blog.I'm looking forward to seeing who will take me up on this challenge!
As an extra incentive, anyone who participates and advertises "New Year's Meditations" on their blog I will be sending one lucky participant a $25 gift certificate to Amazon.com. I'll do a random drawing from the names of everyone who does a post and leaves their link here (beginning Jan. 1st) via Mr. Linky