Saturday was Jewel's sixth birthday. I'm still not sure how she got to be six so quickly, but she did. She was so excited about having a party, which we kept denying. Finally, she told us she knew there was a party because "B" had told her she was invited. I told her that "B" might be invited to a party, but she didn't have an invitation so she couldn't come! But the day arrived.
First we started the day with pancakes, eggs and bacon. (sorry no pics)
Then, we sent the girls to the toy room to play as this was erected in the back garden.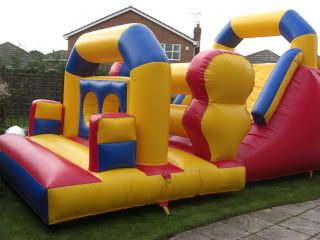 It is a bouncy castle, obstacle course and slide. Jewel and Flower had a blast on it all morning.
Then at 1:00 ten of her friends (plus 17 mommies, daddies and other adult friends) arrived for the party. They played and played on the bouncy unit. We ate pizza and other snacks. The theme was "Princess Jewel" and all the girls received tiaras (the lone boy received a pirate hat). Jewel's big present was a Disney Princess bike from Daddy and Mommy and a Princess bike helmet from Grandad and Dixie. (pictures to follow when they are downloaded)
This is this year's cakes: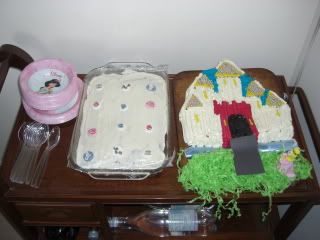 The night before the party the weather predicted rain arriving at 1:00 and lasting all night. The morning of the party it said arriving at 4:30. The party was scheduled for 1-5! The rain started at five minutes before five and lasted all evening. But, everyone was wrapping up and heading home at that time. We were able to cover the unit with the tarp until the castle man arrived at 6 to retrieve it. Just as we loaded it into his van, the heavens opened. God was so good to give us a party window! A great time was had by all!