Although we had a late arrival the night before, we wanted to have an early start for our first real day in Florida. Jet lag helps because we woke up early. After getting everyone dressed we headed out. A quick run through the drive through at Mickey D's and we were on our way to....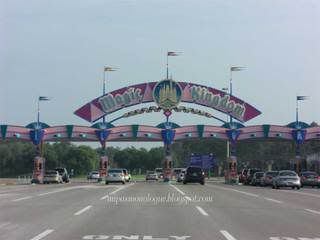 We already had tickets, so it was just bag check and the monorail trip to the main gates.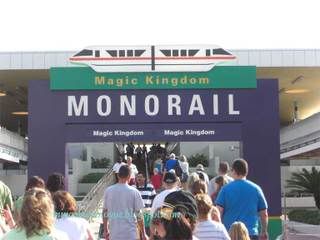 We missed rope drop by about 5 minutes, but were still there plenty early. Friends had told us to immediately take the train around to Mickey's Toon Town to miss the crowds. Keeping that advice in mind, we headed to Main Street so the girls first pictures of MK would be the castle.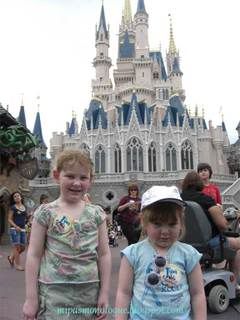 On the way we also sawy Chip n' Dale and Pluto.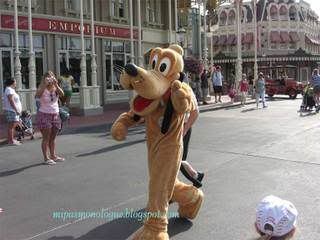 We hopped into the Mercantile to buy the much needed autograph books and then into guest services to get their 1st visit badges--then we headed to the train. We got to ToonTown just before rope drop.
We weren't selected to tour the house with Mickey and Minnie, but we were able to tag along and ended up being third in the queue to get autographs and pictures. Flower was so excited that she was literally jumping up and down.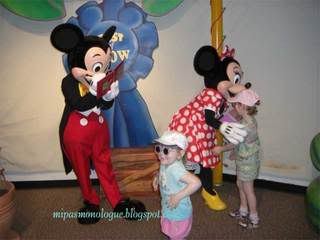 It was the cutest thing I've seen.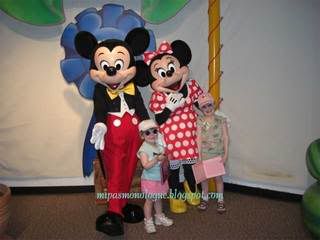 Autographs and pictures taken, we headed to the tent to get the princesses autographs. So many people had told us to not stand in the "horrendous" queues for pictures and the like, but we ignored them. We felt like those autographs and pictures were the building blocks for the girls memories, so the time was worth it. Twenty minutes later my princesses met Aurora, Cinderella and Belle. They were in heaven! Pictures do not capture the extent of these smiles.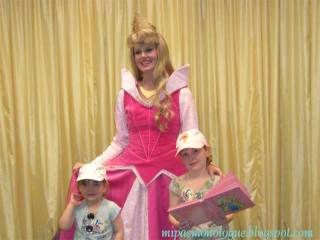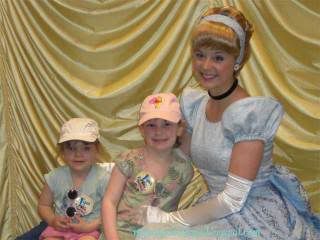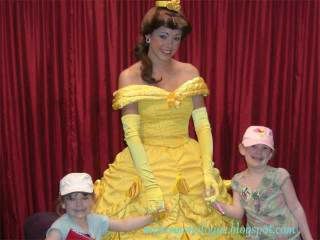 Then it was off to ride Goofy's Barnstormer. They loved that as well. We then meandered to Fantasyland, meeting Gepetto and Gideon along the way.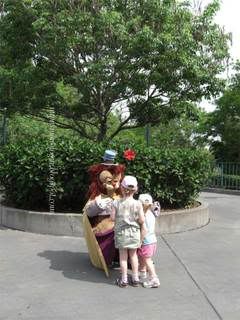 Our first ride here was Peter Pan's Adventures. This turned out to be our longest queue of the entire trip--35 minutes. Flower rode with German and Jewel rode with me. Jewel quickly decided she did not like dark rides, but Flower loved it!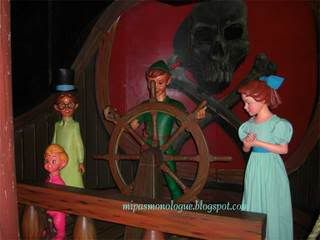 After that we rode the Flying Dumbo ride which everyone liked.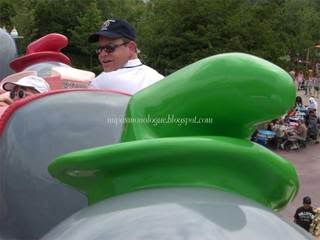 Lunch followed then on to German's favorite ride (from previous visits), It's a Small World.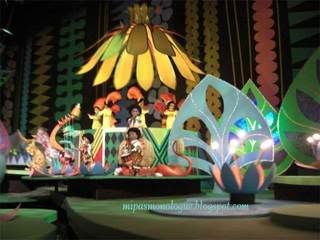 Again everyone had a great time, although the song really does become annoying!
We walked through the castle to main street to have ice cream and wait for the parade.
We found the girls the perfect perch on top of the trash bin--good thing they are so meticulous about cleaning at Disney, it was cleaner than the ground. Ooohs and aahs were enjoyed.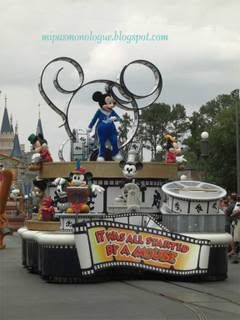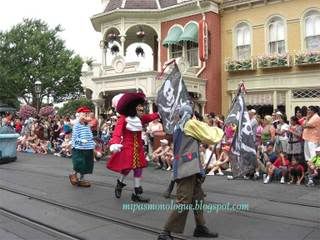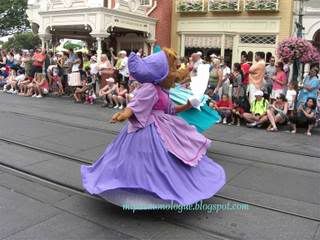 Given that our internal time clocks now said it was bedtime, we decided to call it a day at the park. We walked out and took many of the "classic" pictures, including this one.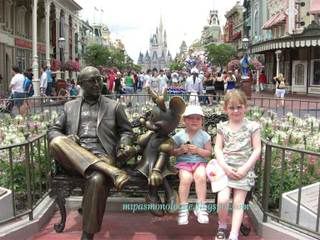 At home, the girls took a short nap and then everyone went swimming. The pool felt great after a hot day in the park! We went to dinner at Ponderosa, got home and went to bed by 9:00. We knew we needed a good night's sleep in order to have a big day the next day.