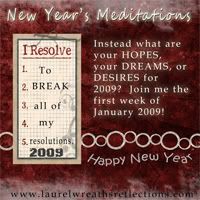 As I've been reflecting on my dreams for 2009, I've been praying for a theme for this year. I've always had topics I wanted to work out during the year, but never a theme for the whole year. One word continues to come to the forefront of my dreams, so it will be my theme for the year. That word is:

ENGAGE
I believe that God is calling me to:
*ENGAGE in my marriage. This year will call for changes in German's work. It will probably mean a new account which could mean a new location. I need to intentionally engage with him to make the transition seamless as well as keeping the pressure off at home.
*ENGAGE with my children. This includes more engagement in activity for their education. I'm great with the factual education stuff, but hands-on is not my favorite way of learning. But it is theirs, so I need to engage with them in learning in a meaningful way for them. I also want to be more engaged in their spiritual development. Jewel is at an age where she is beginning to ask many questions about God and why Jesus came, and I want to take full advantage of this time. Finally with both them and with German I want to be more engaged in memory making. Whether it is in building traditions at home, celebrating milestones, or traveling, I want when they look back on these years for them to be able to recall parents who were fully engaged in their lives.
*ENGAGE with Scripture. I've felt the need to commit Scripture to memory for a couple of years. This year my dream is to do that. To that end, I'll be participating in the
LPM memory challenge
where we are to learn 2 verses a month. I like this plan, because each participant chooses the verses that God is laying on their hearts so it is applicable to day-to-day. I also want to engage Scripture in my personal Bible Study as well as the Ladies Study which I lead. As 2009 comes to an end, I pray that I am able to say that I've gone deeper and learned much. 2009 is also the year that I pray I will find a mentor for me. I've mentored many young Christians, but I am feeling somewhat empty in that pursuit. God has led me to two older women in our church (fairly new to the church) that I feel may be the mentors He has ordained. I'll be approaching them soon to see if they would meet with me, study with me and serve in that capacity.
*ENGAGE with ministry. My ministry at the church has been curtailed for various reasons this year. The Ladies Bible Study and the house group that meets in our home are wonderful opportunities, but I believe God has something new and "more" for 2009. I'm prayerfully anticipating what that might be.
*ENGAGE with others. I'm feeling led to be more intentional in hospitality, especially with non-believers. Just as I'm seeking a mentor, I need to seek someone to mentor this year. And I want to engage others in this blog. I continue to pray that this is a place of hospitality, encouragement and support. May 2009 see that come to even more fruition.
Bless you for visiting me this January 2009. I pray that you find God at work in your life throughout this year. My thanks to
Lori
for hosting this wonderful opportunity to reflect on dreams for 2009. Please visit her place to find meditations of others.
So then, just as you received Christ Jesus as Lord, continue to live in him, rooted and built up in him, strengthened in the faith as you were taught, and overflowing with thankfulness.
Colossians 2:6-7
(my first memory verse of the year)