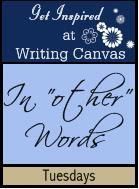 "This is my Father's world
Oh let me ne'er forget
That tho the wrong seems oft so strong
God is the ruler yet.
This is my Father's world
Why should my heart be sad?
The Lord is King; let heaven's ring!
God reigns: Let the earth be glad!
~Maltbie D. Babcock~
Today, a quiet revolution takes place in Washington, D.C. One man steps aside from power, another takes on the mantle. It is truly a remarkable thing every single time this happens because it is a peaceful exchange according to the wishes of the citizens who took the time to vote two months before. Countries all across the world have no understanding of how power can exchange quietly and peacefully. They have only ever witnessed it in violent taking over, not in calm exchange. It amazes me each and every time I witness it. Some elections it thrills me to see the new leader take his place (and in our history it has been his place although I'm open to God calling a woman to that role). Other years, I've watched with some trepidation. But the actual witness of democracy in action amazes me.
But, as remarkable as this day is it is just a day. As historical a moment as it ever is when a president is inaugurated, and even more historical that today the country demonstrates how far from the Civil Rights Movement we have evolved, the president is just a person. As much power as is given to the office of President, that power is still limited. The role of President is important, but the person who holds that role does so with the permission of God. God still holds ultimate control over HIS world. God does not relinquish His power. God does not abdicate His office. And that my friends is GOOD NEWS!
Everyone must submit himself to the governing authorities, for there is no authority except that which God has established. The authorities that exist have been established by God. Consequently, he who rebels against the authority is rebelling against what God has instituted, and those who do so will bring judgment on themselves.
~Romans 13:1-2~
If today is a day that you are thrilled to watch, be careful to celebrate the moment without worshiping the man. Be careful to remember that he is there by the grace of God. If today is a day in which you in hold trepidation, be careful not to bestow too much power to the man. Be careful to remember that God has not abdicated His authority. Whichever camp you are in today, the most important thing any of us can do is PRAY. Pray that the man, our new President, is bestowed wisdom and courage and leadership for the tasks at hand. Pray that his family will be held in the protective hands or our Redeemer. Pray that the people around the Office of President and the Obama family will be people of good character, sound judgment and pure motives. Just pray. That is what we are called to do before God.

I urge, then, first of all, that requests, prayers, intercession and thanksgiving be made for everyone— for kings and all those in authority, that we may live peaceful and quiet lives in all godliness and holiness. This is good, and pleases God our Savior"
~1 Timothy 2:1-3~
Loni is our hostess today. Please join us at
Writing Canvas
.