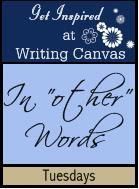 "Kind words can be short and easy to speak, but their echoes are truly endless."
~Mother Theresa~
The echoes of all words are endless. Many of us hear the words that have been spoken to us for years to come. We replay the tapes. We feel in our souls the elation or the pain that those words brought. The rippling effect of what is said can last a very long time.
So we must ask ourselves, when the people around us think about us in years to come will they hear harsh words or will they hear kindness? I'm sure we all prefer that our words are remembered as kind. That means we must take the time to measure them today before they are even said. We must sift out the harsh and speak the kindness. Even correction may be spoken with kindness and not derision.
Measure.....Sift.....Speak. Measure.....Sift.....Speak. Measure.....Sift.....Speak.
If I repeat it enough, maybe it will become second nature.
May the words of my mouth and the meditation of my heart
be pleasing in your sight,
O LORD, my Rock and my Redeemer. Psalm 19:14


Reckless words pierce like a sword,
but the tongue of the wise brings healing. Proverbs 12:18
Our hostess this week is
Susan at Forever His
. Join us there to read more words of kindness.