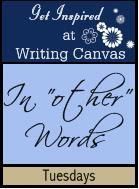 "If a sudden jar can cause me to speak an impatient, unloving word, then I know nothing of Calvary's love, for a cup brimful of sweet water cannot spill even one drop of bitter water, however suddenly jolted."
Amy Carmichael
Thank you for joining us for In Other Words this week!
No significant words of wisdom this week. I just found, as I was reflecting on what quote to choose this month, that these lines of Amy Carmichael's challenged me anew.
What spills out when I am jarred? A snarl at an unexpected delay? A less than kind word in response to a less than kind word? A look of disapproval at something that *I* would never do?
Or, do I spill out kindness when someone is having a tough day? A smile to "take one's time" when the delay is inevitable? Sweet words in response to less than kind words?
If I'm filled with sweet water, I will spill sweet water. If I am rooted in Christ, I will bear loving fruit.
By their fruit you will recognize them. Do people pick grapes from thornbushes, or figs from thistles? Likewise every good tree bears good fruit, but a bad tree bears bad fruit. A good tree cannot bear bad fruit, and a bad tree cannot bear good fruit.
Matthew 7:16-18
Love is patient, love is kind. It does not envy, it does not boast, it is not proud. It is not rude, it is not self-seeking, it is not easily angered, it keeps no record of wrongs. Love does not delight in evil but rejoices with the truth. It always protects, always trusts, always hopes, always perseveres. Love never fails.
1 Corinthians 13:4-8a
I would love to hear your thoughts on how we can be "sweet water" spilling out. Please join in the discussion and add your direct link in the McLinky below.