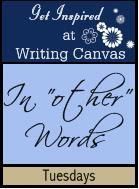 I could live my life in the land of "what ifs." You know the place I mean. It is the place where we play all the worst case scenarios over and over in our heads (or even aloud) and work ourselves into a frenzy of anxiety.
What if his job ends?
What if one of us gets sick?
What if there is a car accident as he commutes?
What if the girls do not learn enough in school?
What if someone questions how I'm doing this?
What if? What if? What if?

*
ugh!
*
We are not called to live in the land of
what if
. We are called to lean on the arms of Jesus and to trust him regardless if the worst case scenario comes to be. He holds us. He knows what is coming and he will still hold us.
"Peace I leave with you;
My peace I give to you;
not as the world gives do I give to you.
Do not let your heart be troubled,
nor let it be fearful."

John 14:27 NASB
Do you live in the land of "
what if
"? Pack up your anxieties and leave that land. Move into the arms of Jesus. He will hold you, even when "if" happens. Trust him.
Patricia at
Typing One-Handed
is our hostess today. Please visit the others who are participating today and be blessed.
Father God, you know what is causing me anxiety today. Help me to leave it where it is and trust you. Help me to not rehearse what could happen and live in what you are doing this very moment. I want to feel the peace that you have promised. Amen.