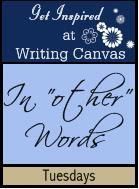 It has been well said that 'earthly cares are a heavenly discipline.' But they are even something better than discipline- they are God's chariots, sent to take the soul to its high places of triumph. They do not look like chariots. They look instead like enemies, sufferings, trials, defeats, misunderstandings, disappointments, unkindness."
Hannah Whitall Smith
Often I wish that the life-changing lessons that I need to learn could be learned in a comfortable setting. But it isn't the case. It is in the crucible that the most important things are imparted.
It is in dealing with enemies that I learn to forgive. It is in coping with those who say negative things about me that I learn to pray for my enemies. It is in walking away from the challenge that I learn to turn the other cheek.
It is in facing the trial that I realize that God's strength is sufficient. It is in standing at a place of challenge that I learn if God's word in my heart will move to my speech.
It is in suffering that I learn if God's grace is sufficient. It is in a place of daily need that I learn to trust.
All of these concepts are studied in the quiet. In the calm of life I am able to dwell in the Scripture and place the seeds in my mind and heart. But only in the crucible will I learn to apply them. Only when they are the only things left to turn to will I know if they have taken root. The blessing is that we then see God answer his promises. In the application we are carried forward. And when all is said and done, as we apply the lessons God is glorified. His word is proven truthful when we demonstrate obedience. He glorifies Himself as he teaches us to follow him.
For my own name's sake I delay my wrath;
for the sake of my praise I hold it back from you, so as not to cut you off.
See, I have refined you, though not as silver;
I have tested you in the furnace of affliction.
For my own sake, for my own sake, I do this.
How can I let myself be defamed?
I will not yield my glory to another.
Isaiah 48:9-11
Father God, as I face things that I see as trials and difficulties and sufferings, allow me to see that you are refining me. I want to glorify you with my obedience. I want to be more like you in the end. Thank you for loving me enough to refine the things in my life that need to go. Help me to be available to your teaching. Amen.
Kathryn at
Expectant Hearts
is our hostess today. Please visit her and be blessed