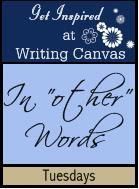 "Christians make a difference in this world by being different from this world; they don't make a difference by being the same." from Unfashionable by Tullian Tchividjian
Dating myself here, but one of my favorite childhood memories was a certain PBS television program where a little game was played.
"One of these things is not like the others, one of these things just doesn't belong. Can you tell which thing is not like the others before I finish my song?"
Come on, you know you are singing along with me--and if you are too young to remember I don't want to know. What was the purpose of the little game? It was to decipher what was different. We didn't need to figure out how things were the same--that was pretty obvious--but why something was different.
Putting a Christian in a situation with a group of non-believers, we should be able to do the same. We should be able to determine by the reaction to the situation that something is different. One of these people doesn't belong. Moreover, it is not a game that makes them not belong. It is because they belong to heaven, that they do not look the same as those of this world.
Do not conform any longer to the pattern of this world, but be transformed by the renewing of your mind. Then you will be able to test and approve what God's will is—his good, pleasing and perfect will.
Romans 12:2
How does different look? It looks like forgiveness in an angry situation. It looks like mercy to someone who has caused their own pain. It looks like food to a hungry person, drink to a thirsty person, visits to a lonely person. It looks like taking time to see individuals not generalized ideas. Different looks like meeting a person where they are and not making assumptions about how they got there.
And the world looks for different.
There are people out there looking at us to see if what we believe makes a difference in how we live.
We need to let it make a difference.
Father, today as people who are nothing like me look into my life, may they see differences. Let them see that you are the difference. Let my words, my attitudes, my glances, and my actions portray a difference that is worth having. Thank you for making me different. I pray that I glorify you in my differences. Amen.
Debbie at
Heart Choices
is today's hostess. Please visit her and the other wonderful ladies making a stand to be different with their blogs. Have a blessed day!