It started several months ago. One of the little ladies that went to my church had lost her husband about six weeks before. That Sunday morning she got out of her car, quite flustered. When I asked her what was wrong, she said she had locked herself out of the house. She went on to explain that her doors were self-locking, and anytime she would leave the house her husband would call after her, "Don't forget your keys." She looked so lost when she said, "I miss him." I made certain that she had a way to get back into the house (neighbour has key and she spoke to him to be certain he would be home after church). But her words haunted me. I wanted to do something for her in her lonliness.
The idea of the tea party came to mind. A tea party for the ladies in the church who were older and alone. The dreams and the plans took root, but every time I tried to plan it, something got in the way. Finally, I chose Valentine's Day. Then I learned that there was a ladies meeting that day at the church. So I moved it to the Tuesday after and called it a Post-Valentine Tea Party.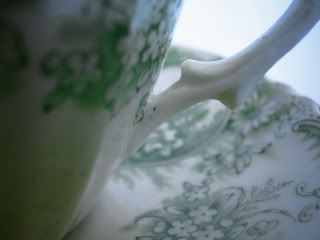 Twenty-eight ladies were invited, and thirteen came. Those who rang to decline the invitation gave me as much joy as those who accepted. I heard stories from them, I heard how they tried to change their plans, and I heard how
just an invitation
was a blessing to them--how they missed being invited to things. God certainly confirmed the need for the party.
The weekend before the party I made shortbread and pumpkin bread and snickerdoodles. The night before I made a King Cake (it was Fat Tuesday afterall) and gluten-free chocolate muffins. The morning of the party I made finger sandwiches (cream cheese with cucumber and ham with butter). Another lady from the church brought salmon sandwiches to serve. Flowers were delivered from the florist--an arrangement for the table and individual roses as well. The table was set. The girls were dressed in their frills. The china was set out. Another friend arrived to help me serve. Then the guests came--dressed in their finest bringing flowers from their gardens and sweets for my children.
We served tea and sandwiches and biscuits and cake. We laughed. We talked about traditions and how things are different in the US versus UK. We laughed. We heard stories about life during the war. We heard stories of travels made. We laughed some more. I thanked them for being the grandmothers and great-aunts and role models my girls need since we live so far from home. And then we laughed even more. I was so blessed by the time--and the time flew by.
I wrapped sandwiches and biscuits for each person to take home. Each lady received a pink rose for Valentine's. They left with thanks on their lips. But I cherish the time in my heart. The family of God is big. It was wonderful to celebrate with a small part of the family.
Here is the recipe for the pumpkin bread. It was my grandmother's recipe, and I do love baking it. Enjoy!
Pumpkin Bread
2 sticks oleo or butter (do not soften)
2.75 cups sugar
1 Tablespoon cinnamon
1 teaspoon nutmeg
1 teaspoon cloves
3.5 cups flour
1 teaspoon baking soda
1.5 teaspoon baking powder
1 teaspoon vanilla
3 eggs
2 cups pumpkin
walnuts (optional)
Cream butter and sugar. Add eggs and spices. Stir in dry ingredients alternately with pumpkin. Add vanilla and nuts. Pour in bundt pan or 2 loaf pans. Bake at 350 degrees F for 1.5 hours (slightly less in loaf pans). To dress up for a dessert drizzle cream cheese icing over top, or serve warm with butter. Enjoy!
photo credits: morguefile.com teacup by nacu and rose by chamomile