Actually, this kind of party is among my favorites. I love for a group (or a couple) of friends to gather and we gab and drink tea and quilt or stitch. Usually there is more gabbing and laughing than stitching, but that's okay. That's what makes it a party and not a chore. So in that light, here is some crafty updates.
First my huge cross-stitch finish of the month: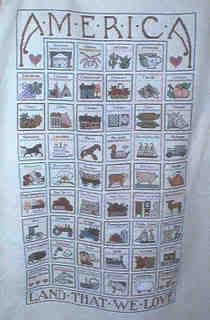 America, Land That We Love
c. Jean Farish Designs
Started December 27, 2004
Finished February 22, 2007
81.5 hours stitching
This is my biggest *happy dance* in a while.
Secondly, here is a little bag I stitched up this week. I'll soon have pics of the second one I stitched (and maybe a third and fourth if I sew this week).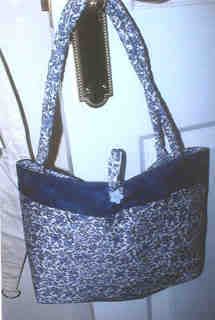 This is a great little bag that I first saw on
Katrina's
site. Then
Lisa
made one for me for a Christmas exchange, and I love it! Then
Pauline
started stitching them. I finally got my hands on the instructions last week. They are a breeze to make, and so versatile.
March will hopefully be a big stitching month for me. Here are my goals:
1. Finish stitching Texas by Hinzeit
2. Start and finish Alabama by Hinzeit
3. Complete 2 blocks for baby quilts
4. Prep my Stained Glass piece for Blackwork Round Robin
5. Complete the blue background section of Rosewood Manor's Flag Sampler
6. Make at least one more tote bag.
I participate in a weekly meme with Stitching Bloggers. Here is this week's question:
Today's SBQ was suggested by Danielle (http://scopist.blogspot.com/)
and is:
Do you find yourself stitching faster when you are getting to the end of a design?


I don't think I stitch faster as I near the end, but I do stitch more determined to finished--I take fewer breaks, etc. I stitch pretty fast to begin with, so speed is not really an issue; commitment to one piece is the issue.
Thanks for indulging my craft habits. Do you craft? Do you get together with a group? I'd love to hear what you do.
Have a blessed Sunday!