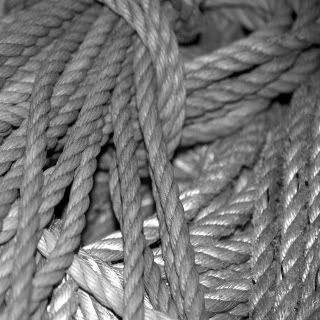 Two are better than one,
because they have a good return for their work:

If one falls down,
his friend can help him up.
But pity the man who falls
and has no one to help him up!

Also, if two lie down together, they will keep warm.
But how can one keep warm alone?

Though one may be overpowered,
two can defend themselves.
A cord of three strands is not quickly broken.
Ecclesiastes 4:9-12

These were the verses used as the basis of our wedding invitations and ceremony. We chose to focus, from the very start, that we could not be "everything" to each other. Maybe it was that we were "older" (I was 27) when we got married. We had lived away from family, as adults, for almost ten years. So, there was a sense of how to cope with life, and trust in God for the ups and downs of life, before we got married. The foundation was set and we were going to build on it.
That sounds great in theory and planning. Practice, on the other hand, was more difficult. We were married in November. In April, German moved to Alabama to take a new job. I stayed in Washington to sell the house. I was miserable. I was a newlywed with no husband. And I was angry...with German, with well-meaning friends who kept asking how I was, with the lousy housing market, with German's old job, with German's new job, with God....you get the idea. I knew in my head that God had blessed us with the job and that He was working out His plan. But I was not resting in it. Nightly phone calls were miserable. German was not making me happy--and I let him know it. By September, the house had still not sold and the decision was made we couldn't do what we were doing any longer. A young cousin of mine agreed to watch the house and feed the cat daily--and I left for Alabama. It was a difficult six weeks of learning to live together, again. But the amazing thing was....German still did not make me happy. I was still miserable. I was focused on the house not selling, us being in temporary housing, and the mountain of things that would need to be done when we moved. I wanted to look for a job, but until we were settled I couldn't (my car was in Washington for one thing). I still was not trusting God with the move.
The house did eventually sell. We moved into our home in January. We found a church. I found a job. But the most important thing I found during that time was a knowledge that my new husband could not meet all of my needs. I learned to trust God and His timing during that year. I begged him that I would never have to do that again. But a few years later, I would find myself putting German on a plane to move to England without me. I would stay with friends while being there to sell our house. But this time I did it with a peace of understanding that my emotional and spiritual needs would be met by God and when He allowed it I would join German. What a difference the move was! I feel certain that this scene will continue to replay in our life, but God is constant and wants our best. When I trust Him with that, then, and only then, can German and I meet each other's needs.
"One of the secrets to a happy marriage is remembering the source of our joy, which is not one another. The source of our joy is the Lord. Yes, we share tons of joyous moments, but we don't expect, let alone demand, endless joy-filled moments from each other. "
~ Liz Curtis Higgs ~
from the devotional: Rise and Shine
Darlene is hosting "In Other Words" this week. Please join us
here
.
photo credit: www.morguefile.com; mervynjenkins