"It is insufficient to proclaim that the Church of God has a mission in the world. Rather, the God of mission has a Church."
~Tim Dearborn~
The past few years I have considered how Jesus' very coming to Earth was demonstrating a life on mission. He could have stayed in the comforts and beauty of heaven, but He came to us to show us a better way. Every person He met was a person who could be touched with kindness, healing, and hope. He lived His life in a demonstration of what He expects us to do--and meeting the needs of others was His highest priority.
So that tells me that my life needs to be a life on mission as well. I remember as a young girl hearing stories of missionaries and assuming that meant you had to go off to Africa to serve Jesus. Even the "home" missionaries served in "exotic" places like "Indian Reservations" (yes, I know it isn't PC but that is what they were called back then) or inner city hovels. It was not until later I developed a sense of mission being everyday.
In Deuteronomy 11:18-19 tells us:
Fix these words of mine in your hearts and minds; tie them as symbols on your hands and bind them on your foreheads. Teach them to your children, talking about them when you sit at home and when you walk along the road, when you lie down and when you get up.
God taught us to use every opportunity to teach our children His word. He did not want us to waste a moment. In much the same way, Jesus left His disciples with this admonition:
Then Jesus came to them and said, "All authority in heaven and on earth has been given to me. Therefore go and make disciples of all nations, baptizing them in the name of the Father and of the Son and of the Holy Spirit, and teaching them to obey everything I have commanded you. And surely I am with you always, to the very end of the age." Matthew 28:18-20
This can be interpreted "as you are going...make disciples". In other words, don't waste a moment--meet spiritual needs wherever you are. WOW! He only set up one means of continuing His mission to meet the needs of people--the church. He told the disciples and they were expected to make disciples, who would in turn make disciples, etc. etc. Mission came first, then church. When that thought takes hold in your heart, your life becomes a life of mission no matter where in the world you are.
Living a life on mission does not necessarily mean going somewhere exciting. What it definitely means is changing your mindset to see the world all around you as a mission field. Here are a few things that work for me, maybe some will work for you as well:
1. Try to see everyone as someone for whom Jesus died and pray for them. This includes the driver who just cut you off, the salesperson that gave you attitude when the price tag wasn't on the blouse, the waiter who gave terrific service, the homeless man on the street. Everyone. When you see them as a person who Jesus came to save, it makes it easier to want to see their needs.
2. Work in ways to talk about Jesus
around
people (not necessarily to them). The kids are great help here. I quiz the girls on memory verses or Sunday School stories when we are on the bus or in taxis--and at least half the time someone who is "eavesdropping" comments or asks a question. Gives me an opportunity to talk about how we learn about God. Another way is to sing church songs with your kids while playing in the park. Other kids inevitably want to know the song--and the word of God is planted in their hearts.
3. Give God credit. When someone says "you are lucky" turn it and say you are blessed. When someone asks how you cope, say "God gives me the grace/courage/strength to cope." Don't let people walk away believing your life is by chance or coincidence. Verbally acknowledge God's part in it.
4. Find a missionary to support. This can be in prayer, financially, with letters and emails, or with practical things (I know one missionary who loves being sent magazines or books because she can't get them where she serves).
5. Subscribe to news feeds that increase your awareness of world needs. Get on some mission prayer updates.
6. Do volunteer work serving the "least" in your community.
And finally, if you can do go. You will not be the same. Our time in Romania two years ago opened my eyes to how a simple touch can make such a difference. My travels in Europe and to Israel and Egypt show me that there are needs everywhere. You will never regret making yourself available.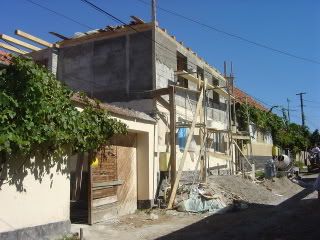 the orphanage that was having another story added to house more children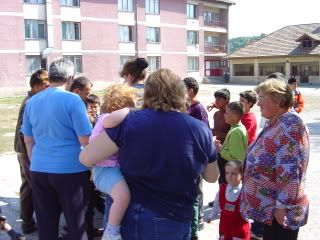 distributing candy at children's home. The kids loved the candy, but loved having their picture taken more!
barrels of clothes, books and computer equipment to distribute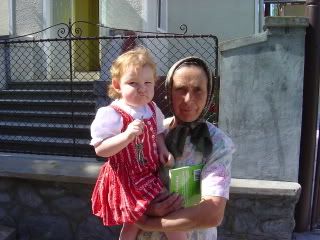 You are never too young. Jewel was only 2, and was in more people's homes than we were. This lady would just take her to show off her red curls.
This week's In Other Words Hostess is
Laurel Wreath
. Please join us!