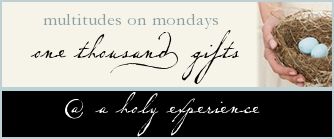 Continuing from last week...
26. a teaching/preaching team that is extraordinary
27. a fellowship to gather with and worship
28. a small group of support and Bible study
29. noisy children
30. quiet moments alone
31. a class to stimulate my mind and interest
32. a husband who supports my interests
33. sunny days to practice photography
34. a roof over my head
35. fresh water
36. food in the pantry
37. the knowledge my family and friends are all safe
38. the honour of lifting a devestated country in prayer
39. resources to help
40. promises finally kept
41. opportunities unfolding
42. email
43. skype
44. cheap international phone calls
45. a quiet neighbourhood
46. a safe refuge
47. HOME
48. Family
49. Church
50. Hope
Celebrating God's goodness in community with
A Holy Experience
.