Time for another Stitchin' Post!
Introducing.....Stargazer Complete!
She took 78 hours to stitch and bead.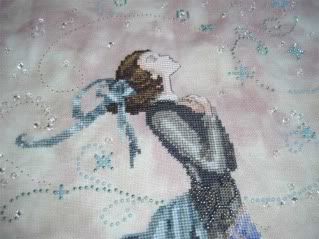 I had always said that I would never do a Mirabilia design. Although beautiful, the beading seemed tedious and unnecessary to a
cross-stitch
design. Then this pattern came out about the same time we bought our telescope and became "stargazers." I made the comment on a stitching message board that this one might change my mind. Late the next week I received the pattern in the mail. I had been RAK'd by two dear friends. It has taken me a long time to get the motivation to start it. But I can honestly say, I have never enjoyed a pattern from start to finish as much as this one! And the pictures do not do it justice at all--the beads are an amazing, necessary part of this pattern! I've bought Fairy Moon as well and will eventually stitch it on the same fabric. I'm working on reversing the pattern so that the two will face each other. And I'm removing the wings, because I'm not a fan of fairies, but that means filling in the wing space with the star field behind.
Next week I should have another small finish, then it is back to an old WIP for completion before any new starts.
Thanks for coming by for Stitchin' Post Saturday. Let me know what you are working on in the comments. Have a fun-filled weekend. We are off to explore a maize maze. Hope we find our way out!