Today's Stitchin' Post was supposed to be a celebration of IT IS FINISHED but instead has become a very aggravated
AAARGH!!!
Here is my Flag Sampler, about 30 minutes from completion at the moment that I RAN OUT OF THREAD. Sorry to shout, but after 2+ years on this project, I desperately want to put it in the finished column. Thread is ordered and will be here next week, so prepare for next Saturday to be a celebration.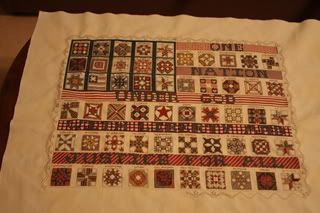 What are you stitching this week? We'd love to see it!