A few weeks ago I went over to a friend's house for a showing of vintage quilts. My friend's friend collects quilts, US and UK predominantly, and was displaying them and talking about them to a group of about 25 ladies who had gathered. They were beautiful. Some dating to the late 1800's. Most from the 1930's forward (including the one that I am using for my banner). It was fun. It was informative. I totally enjoyed myself (except for when Jewel dropped her glass of water and broke it, thankfully my friend is also gracious). My favorite was a yo-yo quilt top, pieced around scraps of paper. The history in the pieces of paper used was fascinating.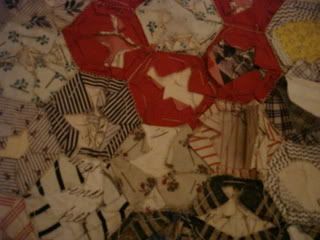 We were also invited to bring our own quilt collections to show. I took this beauty.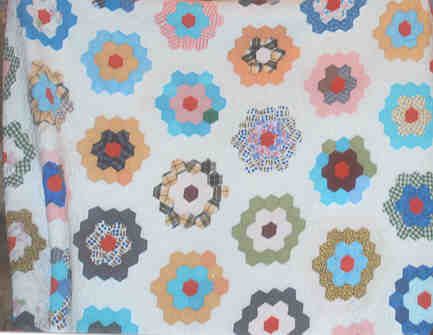 When my grandmother died, we found this quilt top in her things. My aunt remembered her piecing it from her old clothes when she was sixteen (1928). My grandfather took the top and had a neighbour quilt it--she was 99 when she quilted it. He gave it to my Mom. And in April, Mom gave it to me. I will treasure it. I also took the double wedding ring that my great grandmother made for my grandmother. Another of my favorite quilts.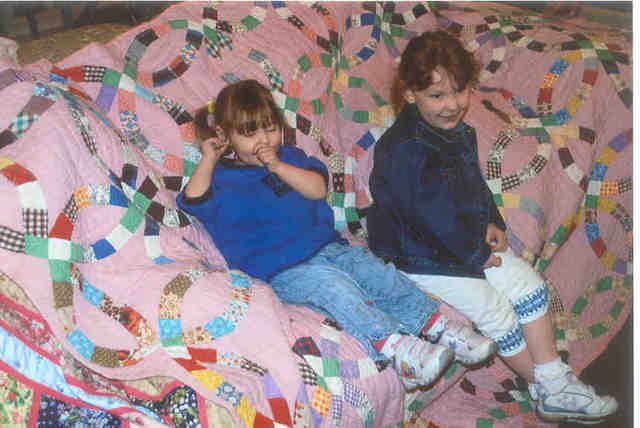 But there was more to the evening than vintage quilts. The presenter also had some of her own quilts. She had one that was a flying geese pattern. She pointed out that it was her first quilt and two family members were critical of how her points came together and it almost made her quit quilting. Then she said, she decided to continue and do the types of things she loved and not worry about precision and such. This was such an inspiration to me. Back when Jewel was born I determined to make a quilt for each of her birthdays--she would leave with her own quilt collection started when she was grown. She has just about worn out her 1st year quilt. Her second year quilt is carefully displayed. And her third year quilt, well....it wasn't finished. It was a flying geese pattern (chosen by Jewel). She loves the block and I took it and her fabric choices (pink and purple) and was going to do a windmill to represent the area we live. But, my points don't match. And some criticism from my "it's gotta be perfect" quilt friends put me off. Then I moved and lost the background material (later found). Well, the whole project had just left a bad taste in my mouth. But this lady's reminder that it is about what we love and not about precision caused me to want to finish the quilt. I abandoned the windmill idea. I assembled the flying geese in rows and quilted it. And now Jewel has her 3rd birthday quilt complete! It is far from perfect, but she loves it because now she has her purple and pink quilt. I even made a pillow cover! Sometimes looking at the old can inspire the new.
(BTW, for her 4th birthday I opted to make a pillow out of Dora the Explorer fabric--which she adores. I have cut out Flower's first quilt and decided on what her second quilt will be--just gotta get busy. *sigh*)
In other quilty news, the cross stitch board I frequent makes baby quilts for the new babies born to members. I had the honour to quilt this piece for baby Madison. I hope she loves it as she grows.
Thanks for looking!