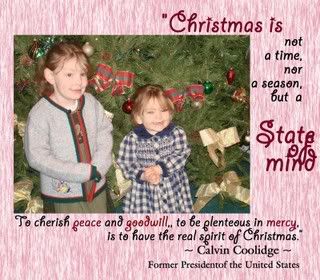 I really want to to agree with this quote. But I am holding back. This time of year we often hear if people would just have the Christmas spirit all year, wouldn't the world be better. By this they mean, as Coolidge states, mercy and goodwill and peace. And those things would make the world better. They are things that we as Christians should manifest 365 days a year. But, I believe we fall way short of the mark. We are just as to blame as the rest of the world for getting caught up in our little worlds and missing the needs of others. We don't care for our own or the world very well.
He has showed you, O man, what is good.
And what does the LORD require of you?
To act justly and to love mercy
and to walk humbly with your God.
Micah 6:8
We don't act justly--we act for ourselves. We don't love mercy--we expect others to meet their own needs. And to walk humbly--oh my!
These are qualities that are desperately needed to be on display in a Christian's life. They show our
obedience
. They mark us as
His
. They set us apart.
But they do
not
define the spirit of Christmas.
The Spirit of Christmas is that God loved us too much to leave us in our mess. The Spirit of Christmas is that no matter how merciful, or good, or peace seeking we chose to be, we could never achieve those things without God. And God could not be at peace with us because our sin separated us from Him. The Spirit of Christmas is that God chose to do something about it. The Spirit of Christmas is that God came to us--Emmanuel! The Spirit of Christmas is
Jesus
!
The Spirit of Christmas is Jesus! And if we allow the definition of the Spirit of Christmas to be watered down to our attitude, then we are missing some of the miracle. I know that it is not politically correct to talk about Christmas being about Jesus (apparently that was even the case in Coolidge's day to a lesser extent). But without Jesus there is no Christmas. Acts of kindness can be performed by anyone. Only followers of Christ can share the Spirit of Christmas. Will you help me share this week?
In Other Words is being hosted by
Darlene
this week. Please join us there!