I've been neglectful of posting stitchy items, so here goes:
This week's SBQ was suggested by Vash
(http://seasidestitcher.blogspot.com/) and is:

Which way do you stitch, i.e. do you stitch /// followed by \\\ on top, or the other way around \\\ followed by ///? Are you left- or right-handed and do you think that this affects the way that you stitch?
I stitch \\\ followed by /// or backwards to most people I know. I am right-handed, but I do believe handedness does make a difference. I was taught to stitch by my grandmother who was left-handed and I stitch like she did!
I've been working hard on my Preamble Sampler for me. Here is last week's WIP picture. I've now completed the "long" side of all the stripes and only have 2 more shorter stripes to complete.
Here is the house I stitched for S's Neighbourhood RR. It was my last house to stitch before they come home.
And finally, here is Robin's Season RR. Sorry the picture is blurry.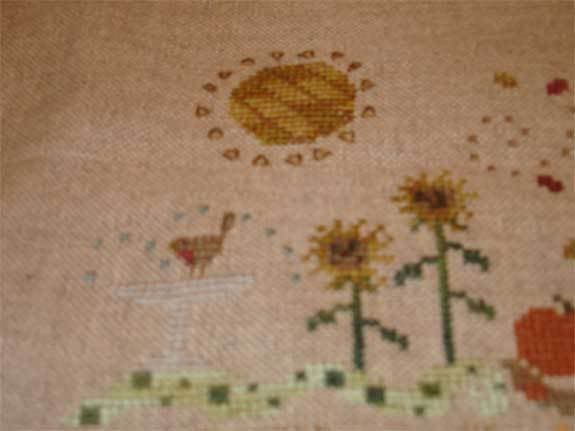 I've also finished 2 quilts. One should have been given to it's owner yesterday and the other is in the post. Once I have confirmation of arrival, I'll post pics of both. Thanks for looking!