Please forgive this post, because it rambles. There is so much going on in my head, I thought writing would be easy. But instead I'm so full, I just don't know where to start. But God has been working in my thoughts on so many levels I'll see if I can make some sense of it.
Last Saturday my dear husband gave me the most amazing gift--time away with friends at a Women's Bible Conference. He kept the girls and sent me on my way (in fact I left before they even woke up so he had the entire day of stuff with them). It was the first time I had taken away that long with just girlfriends. He and I have left them with a sitter for the day, but I've never done it for me time. And it was amazing. The theme was "Back to the Future" and was looking back on Genesis 1-2 to understand where we came from in order to understand where we were going. There were a few "AHA!" moments for me but the one that continues to resonate with me is this: "Because of the Fall we WILL struggle. It is not that we MIGHT struggle because the punishment of the Fall says we WILL. But the hope and the joy is that the struggles are temporary and will end at our Father's feet." (very close paraphrase) I know in my head intellectually that the Christian life is not a walk in the park. I know experientially that the Christian life is often not easy. But sometimes it is just nice to hear it spoken from a place of knowledge. Sometimes it is good to hear that my experience is normal.
She went on to speak of how in general for women the struggle will somehow be in relationships, because we were made for relationships. Furthermore, in general for men the struggle will be in work because even before the Fall they had the task of working the garden, but the punishment of the Fall was that the work would be toilsome and futile. She reminded us that our husbands, brothers, male friends would often find work tedious and full of futility and that it was NORMAL, but our role as "helper" was to allow them to deal with that tedium. I really needed to hear that. My husband loves his work, but it has been fraught with futility the last couple of weeks. I confess that sometimes tire of being the only person to whom he can/will voice his work frustrations. I needed to be reminded that this is part of my role as his helpmate. And I found myself re-committing my purpose as his wife to being more of a Godly listener. Powerful stuff.
The best part of the day, however, was just hanging out with Godly friends. Here is a picture of 6 of us (the 7th is taking the picture).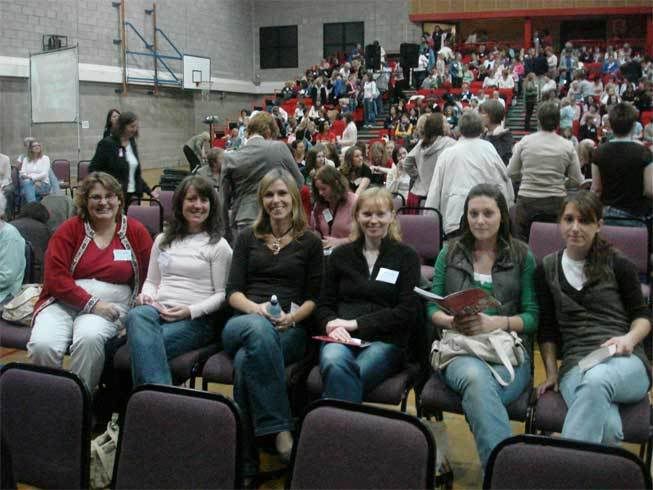 (disclaimer: Before you read this paragraph please note that I read about 40 blogs a day and I only mention 4. That does not mean that yours does not fit the category that I am talking about, it just means that I couldn't list them all. Please forgive me.)
The weekly Bible Study this week is on hospitality. I love teaching about hospitality. I love opening people's thoughts up the notion that hospitality is more than preparing a meal or having a party, but it is a welcoming spirit and how we interact with others. I've been thinking about hospitality in terms of this blog. There are some blogs I visit (
Shalee's Diner
,
Holy Experience
,
AMExpressions
,
Restoring the Years
to name just 4) where I immediately feel at home. I don't have to post and be part of an "inner circle", I don't have to have the same style or thoughts, I don't have to speak that elusive God-language or cross-stitch language, I just have to come and I am totally welcome. I glean wisdom from the ladies and I know that God is blessing me with their words. There are other's that I enjoy what they write but I feel like an outsider looking through a window (if that makes any sense). So what does that mean for this blog? Well it means that I want this to be a place where people find refuge and the encouragement of a fellow journeyman struggling with matters of faith. I hope that no one ever feels like an outsider looking in. So I find myself wondering how can I be "hospitable" in the blogsphere? What is it that makes those sites (and so many others) so appealing to me? Is it the honesty? yes Is it the humor? sometimes Is it that they can bring tears to my eyes with their imagery? sometimes yes But the ultimate reason they are appealing is that they illustrate Jesus. I am drawn because my Savior shines there. He shines when they talk about their marriages, their kids, their struggles, their failings, their successes and breakthroughs. I want Jesus to shine here. I want Him to shine when I talk about Jewel and Flower and the ups and downs of parenthood. I want Him to shine when I talk about His Bible Study that He gives me the privilege of hosting. I want Him to shine when I write of the spiritual lessons I am learning. I want Him to shine when I speak of quilting and cross-stitching and traveling--passions He has afforded me to follow. I want Him to shine. At the end of the day, I don't care if you remember a thing that MiPa said today, but I hope you can say "I saw Jesus in her." To me that is hospitality in a nutshell. And here is fair warning, I am going to become more intentional in allowing Him to shine in this blog.
Welcome friends!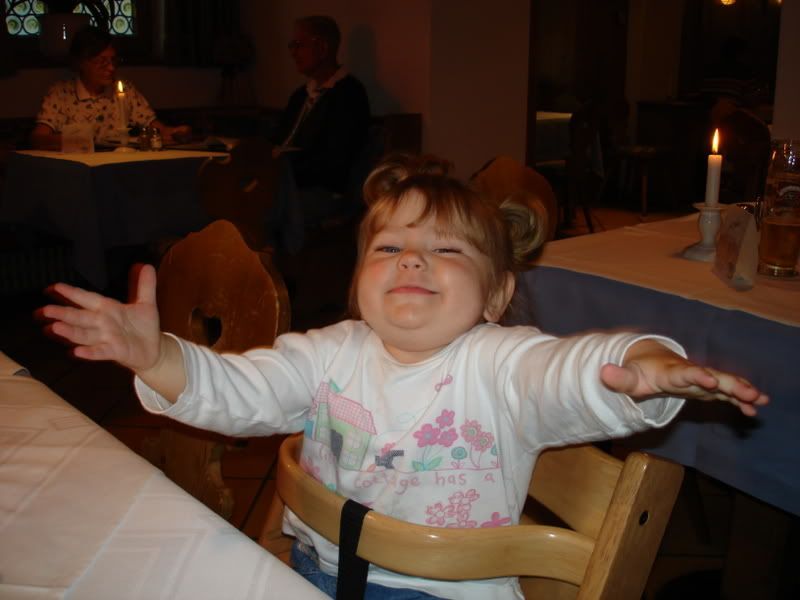 Finally, I'm starting a new Bible Study at church. This one I am actually just participating, realizing that the teacher needs to be taught as well. The study is called "Life in the Spirit" and focuses on the workings of the Holy Spirit. Last night was the introductory meeting. I've already started the study and I can already tell that it will be challenging for me. Growing up in a denomination that downplayed the Spirit's role probably has had more impact on me than I care to admit. But last night something the Pastor said (ok I admit it--I can't remember what he said) triggered a memory from my university days. A friend and I were praying as we did every Sunday evening from 10-11. He was telling me about praying with another friend. He said something to the effect that he loved praying with her because it was like the waterfall of the Holy Spirit just fell on him as he listened to her prayers. I loved the thought then enough to store it away. I love the image more now.
I want to be experience the waterfall of the Holy Spirit falling in my prayers. And, I'm going to be selfish, I don't want a little mountain waterfall, I want the Niagra Falls or Victoria Falls of the Holy Spirit to crash into my life. I'm excited because I know if I allow that kind of power to be unleashed my life will never be the same. I'm scared because I know if I allow that kind of power to be unleashed Satan will throw everything he can at me to discourage me. So please, please, please pray for me as I do this study. Pray for my spiritual eyes to be opened. Pray for understanding and wisdom. And pray for protection for me and my family that Satan will not thwart what is happening. (An added note, my husband is also taking the course so please pray for him as well).
And finally, finally: WELCOME BABY KEARSYN. My dear blogging friends
Vicki
and
Andy
have a new baby girl. Blessings to you and your family!