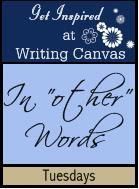 "What if I stumble, what if I fall?
What if I lose my step and I make fools of us all?
Will the love continue when my walk becomes a crawl?
What if I stumble, and what if I fall?"


Chorus from the song, "What if I Stumble?"
Artist: DC Talk
Album: Intermission


I have decided that my next quote is definitely going to be about God giving us a million dollars. Not that I know of any quotes like that, nor do I believe that He regularly does that. But I am certain that practicing having a million dollars would be much more fun than practicing failure. I'm just saying! What a month! And if you don't believe that God still speaks, you need to seriously get involved with the "In Other Words" writers and blogs. What you may not realize out there in blogdom is that these quotes are chosen a couple of months in advance for planning purposes. We don't consult on what quote we are going to use, so there is no planning of a "theme." Yet as they are posted onto our hostess site, time and time again it is obvious that God is weaving a thread of the same colour in and out of all of our lives. Have you seen the progression? "What you believe speaks through how you act" leads into "acting in such a time as this" leads into "trusting God when we can't see the path" leads into "failure". Maybe the thread hasn't been as clear in your journey, but each and every one of these quotes has spoken directly into my life at the moment. Including this week's on failure. So my apologies to those of you who God also chose to use this as a teachable moment.

When I decided to use this quote three and a half months ago it was totally innocent. We sang the chorus in church. I thought about how fear of failing keeps us from moving and how that impacts us in terms of lifestyle evangelism. I thought it would be interesting to hear others' thoughts. Eureka moment--this would make a great "In Other Words" post. So I posted it to the hostesses (thus committing it to the queue) and proceeded on my merry way.

Then the failure happened.



I was given a task to do. Suffice it to say that not everyone who was impacted by the task was thrilled that anyone was doing it. And even more than that, they were not thrilled at how I was doing it. And furthermore, they took huge offense at me personally. And it spiraled into an ugly mess. For an often-in-recovery-sometimes-off-the-wagon people-pleaser such as I am, this spoke one thing into my life.
FAILURE!
I failed to keep everyone happy. I failed to insulate the situation. I failed to keep a smile on each face.
FAILURE!


As we sing those words of the chorus above we are expressing the deepest fears we have. We are saying "God we hear you say 'move out there and do this' or 'live this way' or whatever we hear you say, but we are afraid of hurting your reputation." Hear me solidly on this, God's reputation is not dependent on us. His character is sound and will not change. We can be flat on our face in the mud of failure and He will still be on the throne and He will still be God. But He will also be leaning over, lifting us up, drying our tears and healing our wounds. He knows that we are going to fail. He knows that we are going to mess up. He knows that we will do things that cause people to say "those Christians they...(insert favorite hypocrisy here)." He knows it. And He still choses to use us! Why? Because He loves us. No matter what. All the time. Even before we acknowledged that we were in the mud of failure!



But God demonstrates his own love for us in this: While we were still sinners, Christ died for us.
~Romans 5:8~





There are some of us who have caught a dream of what God can do in our community. At times, it seems like an impossible dream. The incident of perceived failure was but one task needed in accomplishing that dream. Not everyone around us is ready for the changes that could happen if God moves the way we dream He will. I get that. And I understand that what is perceived as a failure on my part is really just a small piece of a much larger picture. There are places in this that the failure was absolutely, utterly and totally mine. I fully accept that in the days that followed I fell over and over again. I failed to be gracious. I failed to be quick to forgive. I failed to not judge the hearts of others. I failed in tone and speech on more than one occassion. And God has graciously and consistently heard confession and extended forgiveness. Any failure that occurred was mine--and I have had to own it and deal with it before God. But it did not change God's reputation. And it did not change anyone else's reputation. If others take on my "failure" and make it their own, then they will have to answer to that. Could things have been done differently? Absolutely. But I believe with absolute certainty that it would have been a bigger failure to not act than it was to act even if others have labeled it as failing. A failure to ignore God's call to obediently act in faith is bigger than a misstep in attempting to follow Him.


This weekend I've been away at a church retreat. God has spoken into my
life about failure in an amazing way. The speaker was using an analogy of the Christian life being like a roller coaster with ups and downs. He said there were highs but there were also places that appeared to be not working so well and we crash into the lows. Then he said that in anything he does, he builds in a chance for failure. He said that it was part of dreaming big. He made the comment that if there was a failure it would make a great story for his grandchildren, but if it succeeded "what a ride!" In the moment, God released me from so many of the "what ifs?" in this chorus. What if I stumble? There will still be a story to tell. What if I make a fool of myself? Oftentimes God uses the foolish things to highlight the best things. Can I really make a fool of someone else? Not unless they allow me to. My writing teacher in college would write "so what?" beside any unsubstantiated point we made in our persuasive writing assignments. I believe that may be the answer God is giving me regarding failing. What if I stumble? So what! It doesn't change who He is. It doesn't stop the love. But what if I succeed and the kingdom of God is impacted forever? Now, that is substantial. That is amazing. And how exciting to be able to say "what a ride!"

What fear is holding you back? Where is God saying "dream big" and you are saying "but what if..."? We are going to stumble. We are going to fail. But God is still God and it will not change who He is. But what if you make an impact for the kingdom? Isn't that worth the risk?

Father thank you for loving us in spite of our failures. Thank you for picking me up each and every time I fail. Thank you for continuing to urge me to dream big and go for huge gains in the kingdom. How amazing it is to me that You would choose to glorify yourself in the mere dreams and actions of someone like me, but you do! And I'm humbled and honored. Help me to never allow fear of what others may think keep me from being obedient. Glorify yourself in me. Amen.

Please sign the link if you have been inspired by this quote to write your reflections. We would love to come and be encouraged by you. I plan to write more tomorrow about the line "will the love continue when my walk becomes a crawl". I couldn't fit it all in today. Please come back!

NB: roller coaster photo is mine; other images are microsoft clipart