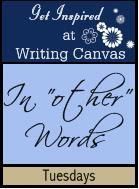 "Give yourself permission not to know and be satisfied knowing the One who does."
by Joyce Meyer, "I Dare You"

Why did God choose to make grass green instead of blue?
I don't know, maybe green is his favourite colour.
Then does he like grass more than sky?
I don't know, but I don't really think he loves any part of his creation more than the rest.
Why do I have to wait until I grow up to know everything?
Baby, you will never know everything.
Then why do I want to know everything?
I don't know, maybe because God created us with lots of curiosity.
If you are a parent, you probably encounter a few dozen/hundred/thousand questions a day that you aren't quite sure of the answer (if you are a homeschooling parent this may be even more!). I have learned that it is perfectly okay to not know the answer. Somethings we may spend some time trying to find the answer (how long will it take for the peahen's eggs to hatch--28 to 30 days) while others I leave it with "that is how God made it." At six and four, my girls are pretty willing to accept that. Not always, but usually.
Not knowing the answers is part of being a child. There are some things that they are simply not ready to understand. I get that. So, not knowing the answers is not something I have really struggled against in my spiritual walk. I am okay not knowing the answers because I know who does.


As the heavens are higher than the earth, so are my ways higher than your ways and my thoughts than your thoughts.
~Isaiah 55:9
There are times I pray persistently, "Lord, I know you have the answers, can you show me a glimpse of what is to come?" But mostly I'm content to wait.
That contentment has come over the years. The more I have experienced the blessing of his timing in my life, the easier it becomes to trust him with the next point of timing. In the relationship I am able to trust when he does not explain himself explicitely. Because I know, implicitely, that he cares for me and has my best in mind.

For I know the plans I have for you," declares the LORD, "plans to prosper you and not to harm you, plans to give you hope and a future.
~Jeremiah 29:11
Father, help me to live in the contentment of knowing that you hold all the answers. Flood me with a sense of your peace when I begin to try to control the timing of things in my life. May I reflect in my actions my trust in your character. Amen.

Nina at Mama's Little Treasures is the hostess for IOW this week. Please join us there and be blessed!