Just a note to regular readers: I have been struggling with what to call my husband in these posts that gives him an identity while keeping privacy (which is important to him). He suggested I use the nickname "German" because it tells something of his background. So from this day forward, German he will be.
It was the week before Thanksgiving, 1994. I was at the church for our annual family Thanksgiving meal. As I walked down the hallway, I heard this conversation:
S: I think they are
A: I don't think so
S: I'm pretty sure they are
A: Well here she is let's just ask…"[Mipa] are you and German dating?"
Me (quite incredulously): Dating? No we are just friends.
I had not really given any thought to dating German. We were the only single people our age in the little church and we liked each other's company (plus we both kept getting invited to the same things at the pastor's house, a deacon's home, etc. etc.) Hmmm…
It's Thanksgiving day. I've ridden along with German and his brother as we travel to our Pastor's Sister-in-law's home for Thanksgiving. It is a long trip from Spokane to Missoula. Lots of time to get to know each other better while his brother naps in the back seat.
It's Christmas time. I'm staying in Spokane. German is in St. Louis with his friends. We talk on the phone every night. Unbeknownst to me he is trying to change his flights so he can come back to Spokane for New Years. He gets the call from the airlines that his flight is changed.
It's December 30. My grandmother just died. I call him to say I'm flying to Texas. He was packing to come home.
It's January 4, 1995. He collects me at the airport when I come home to Spokane. We spend hours just driving. By the end of the week we have begun planning our life together, decided maybe we should actually go on a date if we can see forever in our future, and went our first date eagle watching in Coeur d'Alene. Quite a change from the person he first heard speak at church who said "I'm single by calling and by choice." And I was. But God called me to something even better.
It's Father's Day, 1995. He officially proposes on top of Mount Spokane.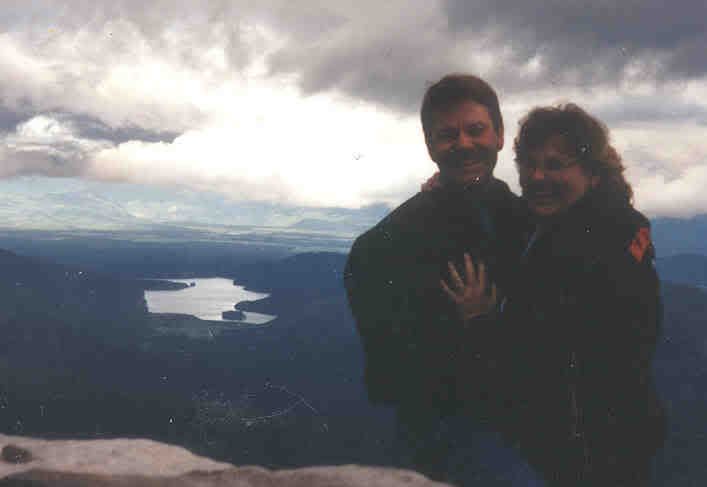 And 11 years ago today, I became his wife. I love you sweetheart! I can't wait to see what else God has planned for us!