Thank you for joining us today for "In Other Words." Each week we gather together over the blogsphere, writing what God impresses on us about a quote presented by that week's hostess. This week I am honoured to present my quote. It is from one of my favourite songs by Steve Camp and it challenges us to not live in Laodicea. I pray you are blessed today by writing and by reading the reflections.
"Oh Lord, take Your plow to my fallowed ground
Let Your blade dig down to the soil of my soul
For I've become dry and dusty, Lord I know there must be
Richer earth lying below

For I've been living in Laodicea
And the fire that once burned bright, I've let it grow dim
And the very Word I swore that I would die for all has been forgotten
As the world's become my friend"

Lyrics by Steve Camp
"Living in Laodicea"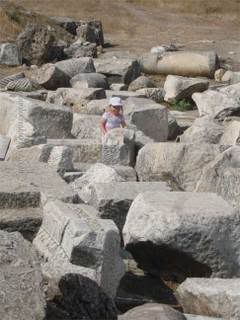 I live in the land of Laodicea. No, the sign as you enter my hometown does not say that name, but it is fitting just the same. It is a land of lukewarm. Not passionate enough to be hot, not totally cold-hearted either. It is Laodicea. But is not where I want to live.
Laodicea, in ancient times, had no natural water source. The water that came from the naturally hot springs came a long distance and was "lukewarm" by the time it made it to the city. So the people living there would have understood the imagery in the letter to the church.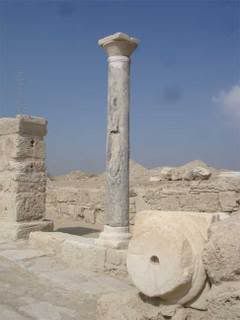 "To the angel of the church in Laodicea write:
These are the words of the Amen, the faithful and true witness, the ruler of God's creation. I know your deeds, that you are neither cold nor hot. I wish you were either one or the other! So, because you are lukewarm—neither hot nor cold—I am about to spit you out of my mouth. You say, 'I am rich; I have acquired wealth and do not need a thing.' But you do not realize that you are wretched, pitiful, poor, blind and naked. I counsel you to buy from me gold refined in the fire, so you can become rich; and white clothes to wear, so you can cover your shameful nakedness; and salve to put on your eyes, so you can see. Those whom I love I rebuke and discipline. So be earnest, and repent. Here I am! I stand at the door and knock. If anyone hears my voice and opens the door, I will come in and eat with him, and he with me. To him who overcomes, I will give the right to sit with me on my throne, just as I overcame and sat down with my Father on his throne. He who has an ear, let him hear what the Spirit says to the churches."
~Revelation 3:14-24
The truth was the church had become complacent. They were rich enough to believe they could take care of their own needs. They no longer saw that they even had needs.
Sound familiar? It does to me. I live in a town of affluence. Yes, there are those who are struggling financially especially in the recent recession, but even they would be considered rich by the majority of the world. My day-to-day decisions are not about whether to eat or drink but what to choose. I don't have to get passionate about depending upon God for my next meal--so I don't.
The affluence is one thing, but the other major characteristic of where I live is freedom. No one tells me who to worship, how to worship or when to worship. I can openly own a Bible, sing praise songs with the windows open and go into the church with no fear of who might be watching and recording my movements. I live in a world that has lost touch with its passion for following Christ because it becomes easy.
In my ease and freedom, I have moved to Laodicea. I can make all kinds of excuses, but the reality is I choose to allow ease, freedom and affluence lead me to apathy and complacency. But it is a choice, and I'm tired of making this choice. I don't want to live in a land of complacency any longer. Ancient Laodicea was rich, but this letter does not indicate that they had no choice but to live in complacency. Quite the opposite, they were told to wake up and repent. They could choose to live with passion. I, too, can choose to live with passion.
The passion is there. I've seen it in me and in those around me in days past. But we allow it to get buried under the mundane things of life. That is one thing I love about these lyrics by Steve Camp, he doesn't say we have to go find something we never had but instead we have to let God dig out what we have covered up. The rich soil of passion is lying underneath the complacency. We just need to allow God to cultivate it.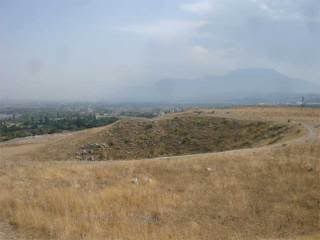 How do we cultivate it? In prayer, Bible Study, fellowship with other believers and accountability within the community of Christ. Why do we cultivate it? Because someday what is growing in the rich soil is all that is going to be left--and we want something left!
He will baptize you with the Holy Spirit and with fire. His winnowing fork is in his hand to clear his threshing floor and to gather the wheat into his barn, but he will burn up the chaff with unquenchable fire."
Luke 3:16b-17
A few years ago I was blessed to visit the ruins of Laodicea. As we walked through that huge old city with its amphitheaters, columned-lined boulevards and the church I was struck at how it was all shaken. Nothing was totally intact. Ancient Laodicea had been shaken by an earthquake and totally destroyed. Only ruins remained.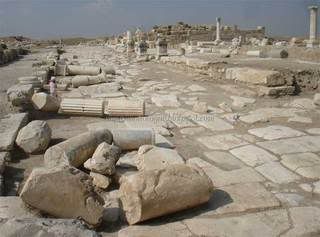 When my life is shaken by the little quakes of disaster, I want something that stands. I want to have allowed fruit to grow in the "soil of my soul" that will last in difficult times. I want structures that stand because they are built on firm foundations and not on complacent sands. Ultimately, on the day when my life is sifted, I want to have lived a life that has something left. That is why I must allow the passion to be rekindled and I must get out of Laodicea!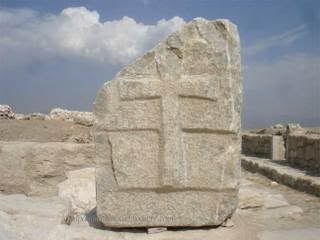 Father, dig down deep and find the cultivatable soil. Plant seeds of passion and concern in me. Weed out the complacency and the apathy. I want to grow a life crop that glorifies you. Amen.

If you are joining us today with your own post about Laodicea, pleas sign the Link Tool below. We want to be able to visit you! Bless you for joining us today.