Again, I'm late to
Lisa's
party. A bad inflammation of my sciatic nerve has Christmas decorating (and blogging about it) slightly delayed. But here is how I decorate for Christmas.
The Tree:
I grew up with "real" trees, German grew up with "aluminum" trees. Before we met he bought a "fake" tree that looks fairly real. I allow him to keep his tree if he allows me to decorate it rather haphazardly. I like to call it lovingly eclectic!
Many of my ornaments are cross stitched by friends over the years.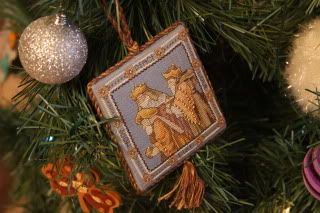 Each year I stitch an ornament for each of the girls that illustrate something from that year. When they leave home, I'll give them each a collection of ornaments that tell the date and place Christmas was celebrated and will be a little history of their lives. Here are this year's ornaments. Jewel started piano lessons this year and Flower learned to ride her bike without stabilisers.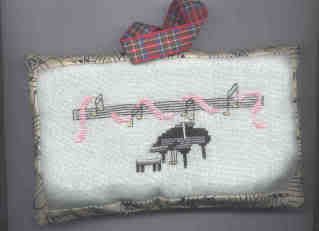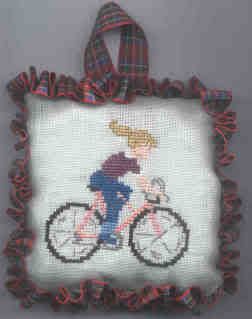 Each year my brother-in-law sends me a special ornament, often blown glass since he knows I love it. This year I believe the girls are old enough that my glass ornaments are back on the tree.
Some of our ornaments are just quirky reminders of things about our life.
This little angel was made out of a doily by a friend. I love it!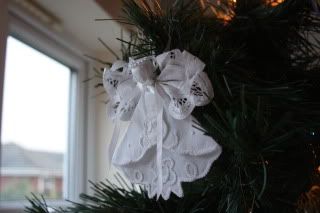 The Piano Top:
My Nativity scene and my Menorrah were purchased in Bethlehem when we were blessed with an opportunity to walk where Jesus walked. I love the juxtaposition of the old and the promised.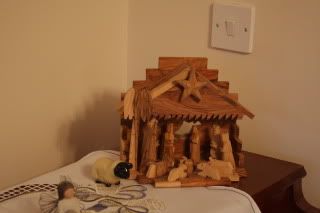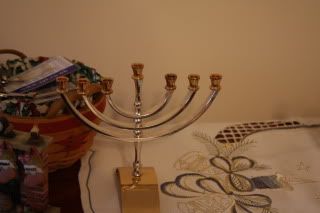 The piano also plays host to my Willow Tree angels at this time of year.
The Snow Things:
Since we were married at Thanksgiving time, several of our wedding gifts were Christmas decorations so that we could decorate our first home together. This little church with carolers is one of my treasured wedding gifts.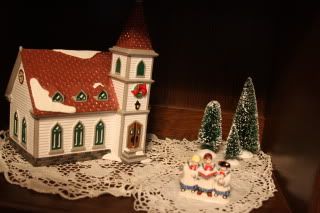 I love snowmen as long as I don't have to deal with snow! This little hat box snowman is dearly loved by me. He is surrounded by other snow related decorations.
The Nutcrackers:
Germany holds a special place in our hearts. Here is my little collection of nutcrackers bought in Germany, Austria and at German Christmas markets.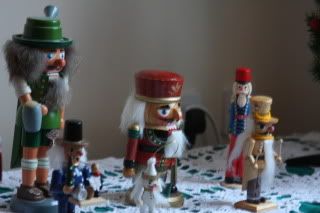 The Mantle:
I noticed as I was loading this picture that one of the stockings has fallen. *sigh* The official reason that there are six stockings hanging (as told with a straight face to my children) is that I love a mantle full of stockings. The real reason is my Dad and his lovely wife are spending Christmas with us! And the girls don't know! It will be their Christmas Eve surprise. These poinsettias are usually on my staircase, but I was looking for something different this year. I love how the mantle turned out.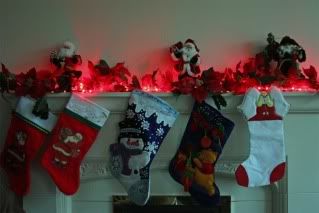 Santa:
We actually have two focus points of Santa, but I forgot to take the second picture. This little Santa was made by a lovely friend here in the UK. The sleigh was made by our neighbours in Alabama. I love how they look together. My second focus point is our front door that has a hand-tied rug of St. Nicholas that was bought in Myra, Turkey, the home of St. Nick. We try to keep the focus on St. Nicholas the real person and not Santa Claus the fairy tale.
Not pictured is my Jesse Tree that is sadly not very decorated this year since I'm having trouble sitting up for periods of time. The girls have kept up with their advent calendar and we have talked about the Jesse Tree each day even if we have not made the ornaments. My dining room is not pictured but it is decorated with poinsettias. I have not put up my Coca-Cola ornaments this year, but they usually adorn the window of the dining room. The front door welcomes you with a poinsettia wreath (guess what my favourite flower is this time of year?) and the stairwell is laced with gold ribbons that the Christmas cards where Christmas cards are being hung.
There you have it, a tour of my place at Christmas. To see how others are ddecorating this year, please visit Lisa at
The Preacher's Wife
.