I'm so glad you joined us today for In Other Words! Mr. Linky has become quite temperamental, so I'm not using him anymore. Please leave your link to your post in the comments. I pray that you are blessed today!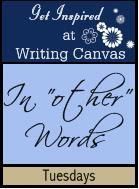 It had been one of those weeks. You know, the kind of week that you are second-guessing all your life choices.
My friend arrived early for Bible Study. I was giving her the low-down of behavioural issues I had coped with this week. I ended by saying "I'm not sure they are learning anything!"
"Should you consider putting them in school?" she asked gently. "Not forever. But maybe they need to see how good they really have it here."
"I've thought about it more than once this week," I admitted. "I don't want to do it, but maybe..."
The doorbell rang and the rest of the ladies arrived for Bible Study. We sat down and began. One of the questions, which I had brushed over in preparation, jumped off the page:
Have you ever considered running to Tarshish when you know you should be going to Ninevah?

Everyone nodded sheepishly. Then the words poured out of my mouth before I ever thought about them, "No I won't put them in school when my Ninevah is to homeschool."
I had never thought if it in that light before. I always think of "going to Ninevah" as some huge evangelistic call. Running away to Tarshish always seemed like a blatant, in your face, I won't do it your way God, no way, no how!
But in that simple question, God got my attention. Right now, my main mission is to care for the little girls he entrusted to my care. For our family, a large part of that mission is home education. My Ninevah is to teach my kids myself. Tarshish, sending them off to school for the majority of the day, often sounds so much easier. It sounds like a little bit of heaven to have part of the day without little people in my space. It sounds like I could get so much more done (for God even!) if I wasn't doing school every day. Tarshish sounds good. But it leads to the belly of the big fish---sitting in muck, ineffective in life. Ninevah sounds hard but it leads to the revealing of God's grace in obedience.
What is your Ninevah? Does it look like more than you can manage? I hope so, because it is in the things that are more than we can manage that God's grace is evident! But are you afraid? Are you tempted to run away to Tarshish? Be careful, you don't know what the path of futility and ineffectiveness brings. It brought Jonah the belly of a big fish. One thing is for certain, running away usually brings unhappiness to us in the long run.
Don't run to Tarshish. Face Ninevah and see God's mercy!
But Jonah ran away from the LORD and headed for Tarshish.
He went down to Joppa, where he found a ship bound for that port.
After paying the fare, he went aboard and sailed for Tarshish to flee from the LORD."
Jonah 1:3