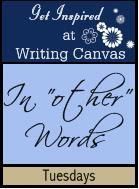 Do you ever know the thing that God wants you to do, but you just don't want to go there? Need to speak to someone that makes you uncomfortable? Need to take on a ministry outside your favorite gifts? Need to travel when you want to just stay home? Does any of this make sense to you?
Can I get an 'Amen'?
Amen! Yeah, me too.
And we are not alone. Jonah was there with us.
But Jonah ran away from the LORD and headed for Tarshish.
He went down to Joppa, where he found a ship bound for that port.
After paying the fare, he went aboard and sailed for Tarshish to flee from the LORD."
Jonah 1:3
Come join me on Tuesday, 21 July to read about one of my Tarshish moments and some of what God is teaching me. If you are willing to write and share one of your own Tarshish moments, I would love for you to join and link up with us on that day.
Have a blessed day! Focus on Ninevah, not on Tarshish.