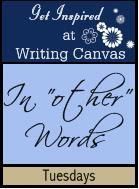 "To ease another's heartache is to forget one's own. "
~Abraham Lincoln~
It's been a rough week around here. One of the things leading to my blogging break didn't happen. It was supposed to be a weekend of celebration; but instead has been filled with frustration and disappointment. We're okay, but we are emotionally bruised by the battle that has been waged. Yet, in the middle of it all, we have had moments of forgetting how bad it looks.
How, you may wonder, do you forget when things just look hurtful? By keeping our perspective on the bigger picture and where God is working. And, by not allowing our pain to keep us from caring for others who are in pain. I will not engage in a political drama here, but we have a good friend who is an exec in a certain insurance company in the news. Our hearts break for him, especially since he had only arrived in this job a month before the media storm of problems. God has in the midst of our emotional roller coaster continually reminded us to pray for him and his family in the firestorm they are facing. Somehow what we face doesn't seem so large. At the same time other friends have been informed that their jobs are not secure. Again, prayer and loving support takes the focus off of us and onto God and his purpose in others' lives.
There's been a lot of heartache to share the past few weeks. Marriages breaking apart, job worries, health scares, parenting difficulties, and the list goes on. In these coming days we can expect even more heartaches to be visible. But we can share in those burdens. We can keep God's perspective on them. And in the process we will be less focused on our own. Focus on God instead of self. That is the main thing God desires.
Who do you need to reach out toward to share their burden? Do it. And, if someone reaches out to share yours, accept it. You may be helping them more than you know.
Carry each other's burdens, and in this way you will fulfill the law of Christ. Galatians 6:2

Two are better than one,
because they have a good return for their work:
If one falls down,
his friend can help him up.
But pity the man who falls
and has no one to help him up!
Ecclesiastes 4:9-10

"Teacher, which is the greatest commandment in the Law?" Jesus replied: " 'Love the Lord your God with all your heart and with all your soul and with all your mind.' This is the first and greatest commandment. And the second is like it: 'Love your neighbor as yourself.'All the Law and the Prophets hang on these two commandments." Matthew 22:36-40
Our hostess this week is Susan at
Forever His
. Please visit the others who are writing on this quote and be blessed today.