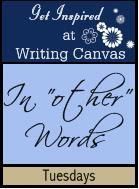 Welcome to Tuesday's In Other Words. I'm so excited to be hosting this week. I have discovered that I need to be very careful in the quotes I choose, because God will give me plenty of opportunities to practice what I write. And writing about obedience....well, you can probably guess how the last week has been. But it is all good when God is at work! Please make yourself at home. Mr. Linky should be working at the end of the post, so please link to your thoughts on this quote as well. And without futher adieu...
"God does not speak simply to be heard.
He speaks to be obeyed.
Obedience is the Alpha and Omega of discerning God's voice."

by Priscilla Shirer
Discerning the Voice of God: How to Recognize When God Speaks, p. 174


A million times a day, it seems, I hear myself say "I don't like talking to myself." It is what I say to my children when they are clearly not listening to me. I know that they are not listening because they are doing their own thing and not acting at all on the words I say. They may be nodding their heads in agreement, but their actions demonstrate that they are not hearing. And as their parent, I want obedient listening not just nodding listening.
I wonder, how many times a day God tries to say to me "I don't like talking to myself." I wonder if he is able to see in my actions that there is a connection between what he says to me and what I do. I just wonder.
I suspect he sees this forty year old child much like I see my own children...self-absorbed and slow to obey at times. *sigh*
Scripture says to us that obedience demands immediate action. It is the first thing that God desires. It is the last thing he desires. It is everything in between. The Alpha and Omega. The A to Z(ed) of hearing. God wants to see our obedience.
Don't fool yourself into thinking that you are a listener when you are anything but, letting the Word go in one ear and out the other. Act on what you hear! Those who hear and don't act are like those who glance in the mirror, walk away, and two minutes later have no idea who they are, what they look like. James 1:22-24 (The Message)

I will praise you with an upright heart as I learn your righteous laws.
I will obey your decrees; do not utterly forsake me.
How can a young man keep his way pure? By living according to your word.
Psalm 119:7-9

He who obeys instructions guards his life,
but he who is contemptuous of his ways will die.
Proverbs 19:6

Father God forgive me when I am slow to obey. Cleanse my heart of the selfish desires that cause me to nod agreeingly, but act independently. May I see that your call is to be obeyed immediately, instinctively and without argument. In Jesus' name...Amen.
Be blessed this week! Please visit the other participants and encourage them on this journey of obedience.
In "Other" Words Participants
Learn more about In "Other" Words here.
View More In "Other" Words Participants
Get The Code
Powered by... Mister Linky's Magical Widgets.