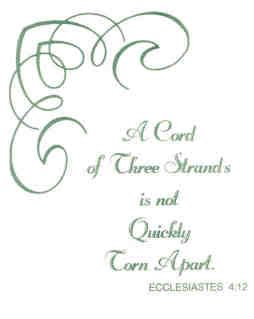 Friday night I received a text, "Thank you for letting me come to Ryder Cup." I smiled as I texted "enjoy it for both of us."
Saturday the tables turned as I texted, "The show was awesome. Thanks." When he responded "it makes me happy when you are happy" I knew he meant it.
Our lives our intertwined, we are able to let each other do their own thing because joy brought to one is joy shared.
A major decision loomed. His boss said, "if you need time to talk to your wife..." but he answered, "we've discussed this type of thing many times. I know what our answer is."
I'm reviewing a curriculum choice. I am not sure whether it is right for us. I hear his voice in my head affirming my hesitation. I make the changes needed.
We discuss life goals and principles all the time. Our thoughts are so interlaced that we can make decisions independently knowing that they are united.
Our new church has small groups in the evening, after children's bedtimes. Most couples have one go and one stay home with the children. We are struggling with that. As German told one of the elders, "I don't enjoy worship with half of me not there." We are looking for a solution.
"I don't enjoy ____ with half of me not there." That is the gist of our lives together. When God joined us together, and joined with us to form this marriage, we stopped being individual strands. We are ONE cord, all joined together. I can't separate home life and church life and school life--it is one life. He can't separate family life and work life and church life--it is one life. We don't separate his life and her life--it is our life, joined together mysteriously and irreversibly. And I would not have it any other way.
Join others in the discussion of sacredness in marriage at
Chrysalis
.