I got out of bed yesterday with the full intentions of posting my first Stitchin' Post Saturday in six weeks (sorry about that). In fact I was downloading the picture when German stuck his head in the room and said "want to go on a road trip?" I absolutely never turn down that kind of opportunity. So we threw the travel bingo (thanks Uncle JJ!) in the car and headed out. Spent the day driving and dreaming and talking. My favorite kind of day. So, this week Stitchin' Post Saturday has become Stitchin' Post Sunday. Enjoy!
I've been working on my first Neighbourhood Round Robin. I have almost completed the England block. I think it still needs something between the daffodils and the path, but can't decide what. Think I'll move to another block for a while and then re-visit. Anyone have any suggestions?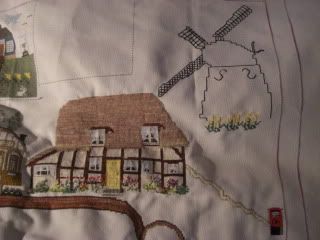 Thanks for looking. Kristin, thanks for being faithful to SPS even when I'm not. Hope you have a wonderful weekend!