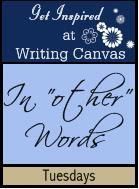 "We deny Jesus every time we disregard His truth and put ourselves down.
That hurts us.
We deny Him every time we fail to see our value in Him.
That hurts us.
We deny Him every time we continue to hang on to our self-condemning thoughts and lies.
That hurts us too.
And then, it's as if Jesus turns and looks straight at us with His eyes of love and compassion, and something dawns on us.
We have, in a sense, denied our Lord Jesus,
and I wonder if that hurts Him."

by Marilyn Hontz
Shame Lifter

What a strange concept it is, to be made in the image of God. We find it almost impossible to attribute the value of that statement to our own lives. To our children's lives---no problem. We see in them the touch of God. We sit and marvel that these little people who carry our genes are so exquisite, and we know that it is the image of God peeking out of their lives. We attribute it to others when we recognize God-given talents and beauties. But we don't attribute it to ourselves. Why not? Doesn't the Psalmist extol:
For you created my inmost being;
you knit me together in my mother's womb.

I praise you because I am fearfully and wonderfully made;
your works are wonderful,
I know that full well.

My frame was not hidden from you
when I was made in the secret place.
When I was woven together in the depths of the earth,

your eyes saw my unformed body.
All the days ordained for me
were written in your book
before one of them came to be.

How precious to me are your thoughts, O God!
How vast is the sum of them!

Were I to count them,
they would outnumber the grains of sand.
When I awake,
I am still with you.
Psalm 139:13-18
How can we both quote the Psalm and discount our value to God? It should be impossible. When we say to ourselves that the image of God, the specialness of our creation, is actually only for others and not for us we are disputing what God has said as truth. In other words, we are calling him a liar! I know that is not our intention, but it is what we do.
We need to learn to see ourselves as God sees us--created for purpose and his delight. When we learn to accept his view and not to discount our value is when we are able to find contentment in who we are. I pray that today you see your value, instrinic in you from creation. I pray that you can accept that and not discount it. May you find joy in who you are because God created you. And may I do the same.
For we are God's workmanship, created in Christ Jesus to do good works, which God prepared in advance for us to do.
Ephesians 2:10
Loni is our hostess this week at
Writing Canvas
. Please come and be blessed.
A quick addition: If you are struggling with speaking truth about you to your heart, may I recommend the study
Me, Myself and Lies
by Jennifer Rothschild. I'm just completing this study and have been amazed at how many times I catch myself using self-condemning thoughts and language. It is a a real life-changing study, but is quite accessible as well. Blessings my friends!