Wow, talk about taking a month to finish a series of posts. Sorry about that. I managed to throw my back out in mid-August. Not so bad as to stop me from doing the things I needed to do, but enough to kick me off the computer. It seems the only chair in the house that really hurt to sit in was the computer chair. I guess God was trying to tell me something about priorities. Slowly over the last 2 weeks I've been able to tolerate computer stuff--but my priority was to get school stuff prepped for the coming school year. (more on that later) But for now, the almost-forgotten final post about our U.S. trip.
Here is the last installment of the Branson holiday. As I mentioned earlier my Dad, Dix and Amy joined us. Dad actually drove up a couple of days before Dix and Amy flew in (because work got in their way!). He came up so that German and I could travel to Birmingham on our own. We knew that it would be a crazy-hard drive to go Birmingham, take care of some needed business and drive back the next day. We did not really want to do that with the girls. So Dad came spent a day with us, then kept the girls while we traveled to B'ham. He and the girls drove to Tulsa to get Dix and Amy. We saw them late the next night. This was the first time we had ever gone away and left the girls with anyone. Moreover, it was the first time that he and Dix were able to just be grandparents without us around. The girls had a blast, and I think the grandparents did as well!
They spent the day at the Titantic Exhibit, playing at the playground and attending the Shanghai Circus.
After we took care of the things that needed done in Birmingham (most importantly renewing my driver's license), we met up with friends to catch up and go out for dinner. Because we are total idiots, we forgot to take a picture!
The next morning, we got up early and made a side excursion before getting on the road. We went to the 45th Birthday Mustang Celebration!
We had so much fun. We spent hours looking at the Mustangs from all years. Although we were only able to see about half the lots of cars before we needed to get on the road, we were in heaven. Then we made the long trek back across Alabama, Mississippi, Arkansas and into Missouri. Here are a few of the lovely cars we saw.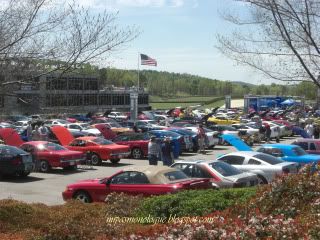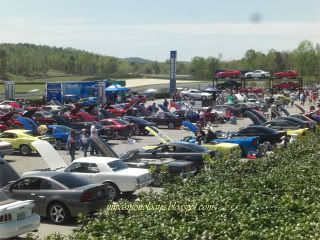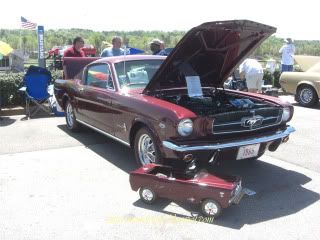 We could never have done that without your help. Thanks Guys!