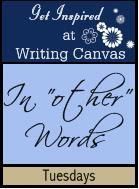 "There was a time when [you fill in] defined my life and left me physically void, cocooned in a prison of fear. It stole my every hope and dream. But God's love and His Word set my heart free. I learned that within the confines of God's story, nothing had been stolen from me, rather everything was given to me. My life, which felt so out of control, was in reality in complete control – God's control."


~ Wendy Blight
Hidden Joy in a Dark Corner
Loni at
Writing Canvas
is our hostess for In Other Words this week. She has asked us to do something slightly different. She has asked us to fill in our own thing that we allowed to define us and leave us void before allowing God's love and Word to set us free. You will have to visit Loni's site to see what defined Ms. Blight's world, but I'll just say thankfully most of us will never have to walk a road as dark or rough as she has. If you have walked that same road, God is willing to bring you to healing of mind and spirit. And, whatever our road, the same God can deliver us!
Honestly I can think of things that people have tried to use to define me, but none that totally work for me in this quote. I could say that my miscarriages could have defined me (I know many people for whom that is a defining moment) but I was never left bereft of God during that time. Maybe it was a constant seeking of achievement, academic or professionally, that could have defined me. But then again, I see the clear thread of God through even the most diligent of pursuits for things that would not ultimately satisfy.
I think maybe it is because I was blessed to have met Jesus as Saviour when I was very young that I don't find the labels as defining me or keeping me from meeting God in the muck that life can be. Instead, I have always had a strong foundation of God's allowing me to be free as I surrender to His control in my life. I can remember a time, more than a dozen years ago now, when I felt life was out of control. A lovely Christian friend asked me where God was in my feelings. I answered "holding the chaos." That is what God does for me when I begin to feel out of control, he holds the chaos until I can see the order in it again.
That is what I need to always remember. Even when I can't see it, he is holding the chaos. Eventually I will see the order in his hands.
What have you allowed to define you? Where do you feel out of control? What do you need to surrender to his control? Let it go and let him make order of the chaos.
Please join
Loni
for a chance to win a copy of Wendy Blight's book, and to read what others are writing about the quote. Have a blessed day!