Officially Romania follows an Orthodox Greek Church tradition. According to Wikipedia, only 5% of the population is Protestant. The Orthodox church is a presence in every town with large churches dominating the skyline. The little community where we were staying (maybe 200 families at a stretch) has 3, yes that says three, of them. All within sight of one another. All served by the same priest. But they can't go to each other's church. (Basically you go where grandma was buried type idea). Actually, that statement implies that they go. And they don't. Weddings, funerals and christenings is apparently the only time the church is used. I did not see a single person go into any of the Orthodox churches. I heard their bells at 530 a.m., but saw no life. How sad. [This is not to imply that there are not Greek Orthodox believers, just that the
trend
in Romania is membership by heritage with no other involvement.]
Yet for the Protestant churches, there are not many pastors available. This is especially true in the little mountain villages. That is why a pastor like S will end up having several churches to lead. And it is not possible, like we would think in our Western mindset, to just combine churches and go to the next community. Most of the people in these mountain churches are elderly and virtually none have a vehicle. If they do have a vehicle it is more likely to be a horse and cart than a car that could get them to church in the next village!
Pastor S. has five churches that he leads. He rotates which church he is at on a Sunday morning and then is in the larger church on Sunday nights (the smaller churches do not necessarily meet in the evening). Each church has an elder that leads the prayer service for one hour before worship and then leads the worship service in S's absence.
While we were there we were able to attend three of the church's services and visit one of the others. The first church we went to was Paros. It is a small church, approximately 30 people. On the morning we were there, S said there were only two members not present and one of them was ill.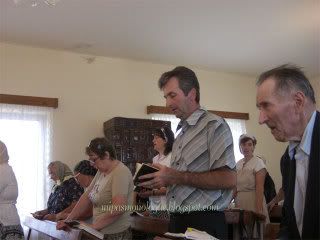 German brought greetings from our church and K preached with S interpreting.
The second Sunday morning we attended the church at Coraesti, a church of about 20 members. Everyone, and I mean everyone, brought a song or poem to participate. They might sing in twos or threes, but everyone participated. It was lovely to see so many involved in the service.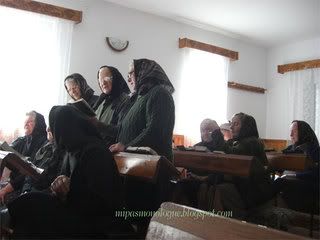 Both Sunday evenings we were in Salas, the church where we were also living. This church has about 90 people. It is so welcoming. There is participation across the age groups as well. It is just a blessing to be among them.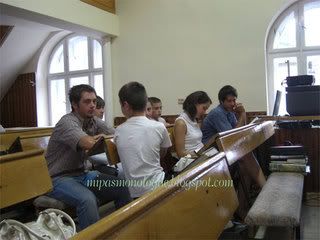 The girls participated in every service we were in by singing. Most times they sang "Here I Am to Worship" while Jewel sometimes did the sign language.
The two hour services in another language were often more than the girls could manage. So we brought them posters to color. Flower got a little help!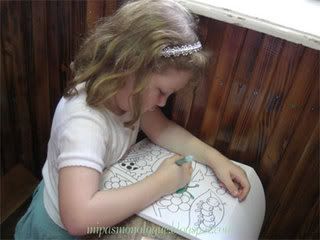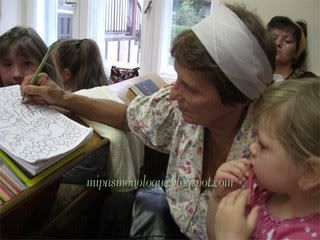 We didn't know it, but this lady is not a member of the church. She is a family member that visits, but is not really involved and not a believer. Flower gave her the picture after the service and Pastor S said later that she was so thrilled to have it. Just a little piece of paper can brighten someone's day!
The other church we went to see was Malaesti. Last time we were there, renovations were just being planned. All of that is now complete. It was an adventure to get there, because we arrived at nightfall and the roads were all dug up for sewer lines to go in. So we walked through the village with no lights by open ditches! A few of the neighbors turned their lights on for us to see, and one even opened her gates so we could by-pass a rather large hole!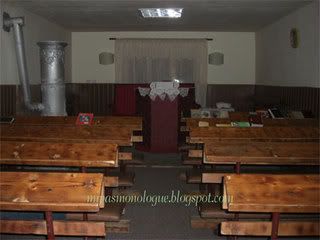 One of the Saturday's we were there, a pastor from another church brought his youth group down to spend the day with the kids from Salas and participate in the youth service. We started the day with a drive up the mountain and then a hike to the waterfall. It was gorgeous!
Then German, S and the girls hiked down to the water so that the girls could taste it!
Here are all of the kids on the mountain.
Then we went back to the church for lunch of salami, cheese, peppers, cucumbers and bread.
The kids leading the church service.
German was asked to give his testimony at the youth service. One of the visiting teens interpreted. Apparently she did great except for when German forgot to take a breath and let her speak. That flustered her a little.
We took lots of video of the kids singing, but out of respect to them (I don't have permission) I will not post any of it. Suffice it to say, hearing a bunch of teens enthusiastically singing praise songs for 40 minutes on the mountain and 90 minutes at church was pretty incredible!