I thought, I'd better warn you...accidents happen.
Especially when you have a migraine and are just trying to live until nap time. And then you sit in the room with the little Flower until she falls asleep, because you have a foreboding feeling that something could happen. But once she is sound asleep, you feel that all is safe, so you creep away seeking the darkness of a quiet room for your aching head.
Accidents
can still happen.
Because she may wake up. And as she makes her way to her toy room, your large recliner may
accidently
jump in front of her, placing her in the little corner where you keep your cross stitch materials.
And while she is in the corner, that she is not allowed to be in but is now
accidently
there, the scissors may
accidently
jump into her hands. Not just any scissors, the extra-pointy-extra-sharp ginghers.
And while the extra-pointy-extra-sharp scissors are
accidently
in her hand, they may
accidently
jump up and cut some of her long, beautiful blond hair.
Accidently
. On both sides and in the fringe. And these remnants may
accidently
be left behind as evidence.
All of this will of course lead to a rushed visit to the hair dresser the next morning.
Where you may find yourself
accidently
smiling, because the new do is kind of cute as well.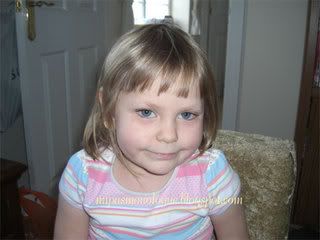 So consider yourself warned....accidents happen. Just ask Flower.