I have returned to the land of the functional after our 17 day trip to the States and the massive jet lag and cold that I endured when I returned. I promise, holiday pics and details soon, but for now here is my menu plan for the week. We are getting back to a South Beach way of life after not worrying about it on the trip, so menus are heavy on proteins/veg and light on carbs.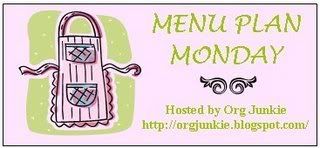 Monday: ground pork burgers with cheese (no bread), mixed green salads
Tuesday: Grilled Salmon with lemon pepper, steamed carrots, salad
Wednesday: South Beach BBQ chicken, steamed peas, corn
Thursday: Indian takeaway
Friday: Lamb steaks, green beans, salad
Saturday: Pork in marscapone sauce, steamed broccoli, salad
Sunday: Bean soup with ham
For other great menu ideas, please join Laura at
orgjunkie
.