First some catching up on SBQ's:
Today's SBQ was suggested Danielle (http://scopist.blogspot.com/) and is:

Are you on "The Wagon?" If so, how long have you been on and how "serious"
are you about it? If not, have you considered it?
Nope, not on the wagon. I am trying to use stash instead of buying fabric and thread. But I am not imposing any rules on my craft buying.

April 5 SBQ was suggested by Heather
(http://theneedlesbewitchingeye.blogspot.com/) and is:

How do you decide which stitching blogs are worth repeat and/or regular viewings? Are there certain things you look for in particular? Are there things you wish there were more of? Less of? Is your blog a good example of what you like to read?


Several things determine if I go back to a stitching blog. Writing style usually draws me. Finishing techniques that are different will draw me back so I can learn. The stitching style does not have to be my style. There are a few blogs that I regularly read that I would never stitch the same patterns, but the presentation of the pieces and the quality of the stitching inspire me. I would not say that my blog is a good example of a stitching blog. I want my blog to be a reflection of who I am as a person (especially a person growing in Christ). Stitcher is part of who I am, and so it is reflected, but the blog itself is not just about stitching.
And now some actual stitching.
When I learned that Margaret and Megan were willing to drive to the airport to meet me, I knew I wanted to make something for them. Two of the stitched bags I showed before my trip were for them (blue for Margaret, pink for Megan). I put these little biscornus in as well. Megan is a math major like me, so I did the Pi-squared freebie from
View from an Alternate Dementia
for her. Margaret is a Bronte fan, so I stitched a silhouette of Charlotte Bronte on the front, and then put CB initials and the names of her works on the back.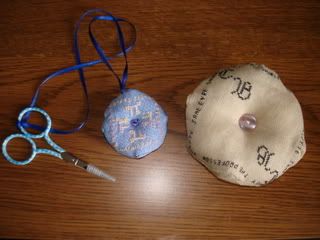 Here is a little biscornu I made for an exchange on a message board I frequent.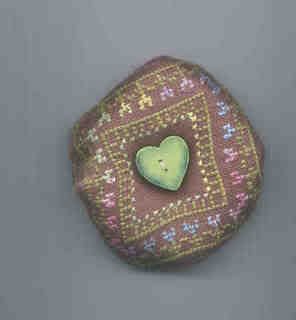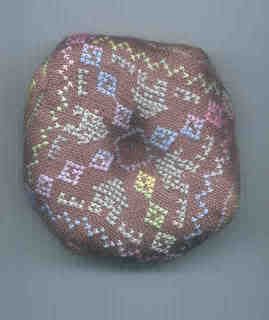 And here is my part of
Kell's
Blackwork RR. I really love this piece and I'm sure it will end up on my wish list.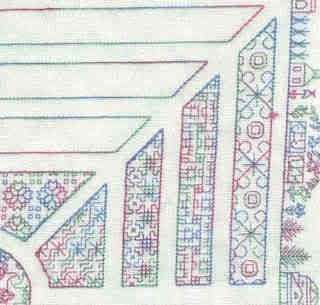 Hopefully, I'll be posting some larger project finishes soon. Thanks for looking!