Flower, age two, has always been "mine." If she needs something she came to Mommy, if she woke up in the night she called for Mommy, if she fell down Mommy could fix it. It wasn't as if she didn't love her Daddy, she did. She delighted in running to greet him when he came home from work, she played tickle games with him before bedtime, she snuggled beside him for bedtime stories (briefly before coming to find me to actually put her to bed). But a couple of weeks ago, something changed.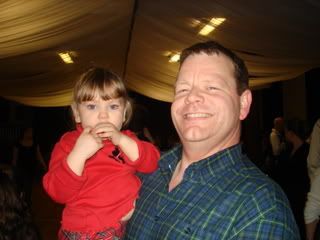 I became invisible if Daddy was in the house. Her world started to revolve around Daddy. It started with saying "Daddy watch" as she danced. Then she stayed for an entire bedtime story--and asked for more. Then she said "Daddy put me bed tonight." And this week, even before I took her out of the car to walk up to church she said "I want Daddy's hand." She has fallen head over heels into a love relationship with her daddy--and I love watching it. Because, as He so often does, my heavenly Father teaches me through my children.
I want to be head-over-heels in love with my Father. I want to dance for Him. I want to know He is watching my actions, and not be afraid. I want to snuggle in His arms and hear His stories and the plans He has for my life. I want to start each moment by saying "I want My Father's hand." I want to trust that much. I want to adore that easily. I want to not be distracted and just revel in His love.
"I long to worship Jesus with the heart of a child, in a state of pure and true adoration. Yet so many things of the world cloud my thoughts and pull on my heart until it's no longer just a girl in the arms of the Father"
~ Darlene Schacht ~
"The Mom Complex"

Dear Jesus, Hold my hand today. Help me cope with the distractions life throws at me. Let me revel in being Your child. Let me celebrate You with abandon. May I glorify You in my life and my worship. And may the result be a Father's smile. I love You....Your Daughter, Mipa.
To learn what other Christian Women Bloggers are saying about this awesome quote, visit Iris at
Sting my Heart
. And Bless you for Visiting.