Want this button?
This month the topic at Marriage Monday is all about weddings, in honor of the month of June being "wedding month." You will find all kinds of touching, funny, sweet wedding stories at Chrysalis' site. Enjoy!
Settle in...this got long with the preamble. :-)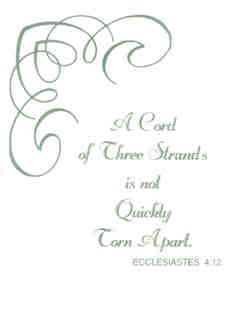 Our wedding story actually began before we were planning a wedding. I had for years wanted, should I ever get married, for the first act of worship my new husband and I would have as a married couple be to take communion together. Not a common practice in my Southern Baptist heritage, but very important to me nonetheless. As the Single's Minister in our church, I often attended the pastors' prayer meetings with all the pastors and youth pastors in our association. A few months before we were planning a wedding, the topic of weddings came up in the meeting. Communion became a hot topic. The Director of Missions emphatically stated that communion had NO part of a wedding ceremony and he would NEVER be a part of a wedding that had communion. I timidly said that I would have communion at my wedding. He told me "good luck." Of the 10 or so pastors there that morning, all but one agreed with him. The lone hold-out, bless him, said "when you get married, call me." I mentally put his number on speed dial.
Fast forward to wedding planning time. Remember, we chose to get married at Thanksgiving. Lots of people travel at Thanksgiving. Our pastor and friend was going to Oklahoma to be his parents for the holiday. Never fear! Our plan was to have a friend perform the wedding ceremony. Since he was not an ordained minister, we would actually "get married" the night before by a JoP and then have the blessing ceremony the next day. Our friend, liked the idea, but then decided it was not something he could do. So now we needed to find a minister! I, reluctantly, called the Director of Missions (DOM). He said he would love to, but his son was getting married the same day! I called Richard, the one who had said "call me", and he was going away for Thanksgiving. He suggested I call the DOM, and I said I had talked to him, but he was unavailable. Richard told me things had changed, so I called again and his son had postponed his wedding since his fiance was taking the BAR exam in November! Yay! We had a minister. Now to convince him about communion. When he understood what I wanted, and that my plan was not for the whole congregation to take communion, he agreed. Whew! Planning could start.
We wanted a simple wedding. We drove to Seattle to Pike's Market and stocked up on dried flowers. I arranged all the flowers in my Longaberger baskets to decorate the church. We would each have one attendant, my little "sister"/best friend in Spokane as my Maid of Honor and German's brother as his best man. Groom, best man and bride's father would wear tuxes. Bride's father was even allowed to wear his cowboy boots with his tux. Maid of Honor was to wear a evergreen dress of her choice, not long, that she would wear again. My bouquet would be a simple spray of daisies. Nothing frilly about this wedding. The ushers were given cummerbunds and bow ties to wear with whatever suit they owned. We wanted simple. The reception would be a dessert reception immediately following the wedding in the downstairs hall.
My dress was the only big purchase we made. My great-great grandfather gave his daughter a gold brooch on her wedding day. My great grandmother, instead of leaving it to one person, asked that every bride in the family use the brooch. Of my Mom's generation, all the female cousins except one carried the brooch on their Bible. The one had her dress designed with a high collar to wear the brooch. I desperately wanted to wear the brooch, so searched for a dress that would allow it. I was able to put the brooch on a chain and wear it. It was my something old. Something borrowed was my hat, that my aunt had designed for my cousin's wedding. Something blue was my garter. Something new was the dress.
Plans were made. We were all set.
Wedding day arrived. I went to the hairdresser to get ready. German and his brother went....to the park. Here they are. Notice the time? The wedding starts at one!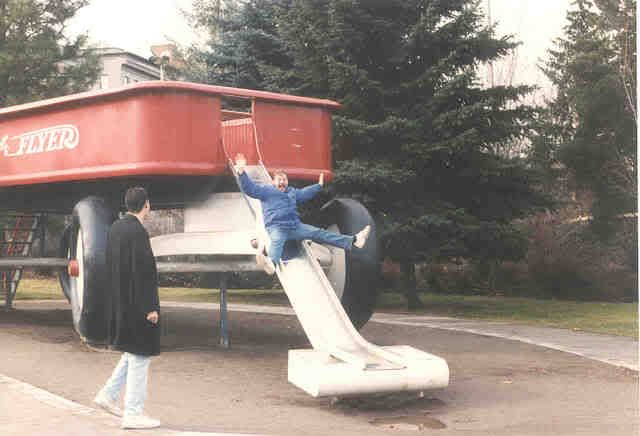 Wedding time arrived. German's aunt and uncle who I had never met arrived from Tucson (they flew up to Spokane for the day). Guests assembled. Everyone was seated. Dad and I got to the door of the sanctuary and I said, "oh no...the communion table!" I had forgotten to take the bread and juice which were set under the table out! Dad said, "can't fix it, keep smiling!" And we walked down the aisle. DOM, notices the table as they walk out and says to best man "fix it!" I love my brother-in-law, but there is something you should know. He is not a Christian; in fact, he had only been in a church a couple of times before this. He knows nothing about communion! He said that all he knew was you ate something and drank something. He ran down to the kitchen, got a cup of orange juice and some potato chips, ran back up the stairs poured the juice in the communion cup and went to hide the other cup under the table where he saw the bread. Tossed the chips under the table and put the bread on the plate and ran to his place. In the meantime, DOM is praying the loooongessst prayer in the history of weddings. Best man in place, amen is said, wedding begins. German is totally oblivious. Had no idea.
The rest of the wedding went perfectly. Vows were said. Dear friend sings Steven Curtis Chapman and Geoff Moore's "Listen to Our Hearts" (heard
here
) which remains one of my favorite worship songs. He later sings another song while we take a silent communion--DOM hands bread to German who eats a bite and feeds a bite to me. Then we share the common cup. (I so wish I had a picture of German's face as he tasted orange instead of grape juice!). Prayers are said. Declarations made. And we leave as husband and wife.
After we signed the marriage certificate, we took this picture. It is my favorite because you can see the orange juice!
We left the next day for 8 days in Germany. By the time we got back, the DOM had told every pastor in the association the story of communion with potato chips and orange juice. I believe it still gets used as a sermon illustration that it is not the elements, but the attitude, that matters. But he now means it when he says he will NEVER have a wedding with communion. lol
I apologize for the quality of the pictures...they did not scan well.